3 March 2015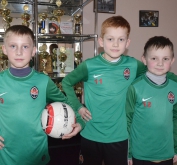 In so difficult time for the whole Donetsk region the Football School of Khartsyzsk for Children and Young People (branch of the football academy "Shakhtar") continues to train young players. Financing of the school is provided by KHARTSYZSK PIPE PLANT. Not long ago the children who moved to the town due to the military operations became the members of the football section.
New trainees of the school are 12 in-migrating children from 1998 to 2008 years of birth. Little in-migrants fromDonetsk,Gorlovka, Amvrosievka have already mastered football skills in halls of the Sports Complex "Trubnik" of KHARTSYZSK PIPE PLANT. The best trainers of the town help the children to learn the ropes and tricks of sport.
"At the beginning the children were unconfident and timid because they became witnesses of awful events which took place in their cities. They were frightened, unsociable children. We were assigned a difficult task – to distract them, introduce sport to kids. We cope with it. Our boys-sportsmen admitted beginners to their groups with pleasure", Sergey Parashchenko, the football coach, has said.
KHARTSYZSK PIPE PLANT promotes development of young sports talents: optimum conditions for trainings are created in the Sports Complex "Trubnik" and classes for all children are absolutely free of charge. As of today nearly 140 young players train at the football school, 5 qualified trainers conduct training. Besides, the experimental group "nursery", in which children of 2011 year of birth train, was opened in the football section.
In addition to sport skills trainers-teachers develop such features of the trainees as courage and resoluteness, diligence and will to victory. Football training helps to live an active and eventful life, teaches kids self-discipline and team spirit. Football develops combativity that is essential in life.
"We believe that someone of our trainees will become a star of the football world in future. We exert best efforts to do this. It's pleasant to see that our boys are so passionate about this kind of sport. Many of them continued to attend training even in such difficult time. We have nice, hard-working and motivated guys. And this is the main thing in success achieving", Vladimir Tumanovsky, Head coach of theFootballSchoolfor Children and Young People, has said.
Editorial notice:
PUBLIC JOINT STOCK COMPANY "KHARTSYZSK PIPE PLANT" is the largest company inUkraine and one of the largest global producers of large diameter pipes. The company manufactures longitudinal SAW pipes (508-1422 mm in diameter) with external anticorrosion and internal anticorrosion or flow coating for main oil and gas pipelines. Plant's facilities permit to manufacture more than 1.3 mln. tons of pipes per year, including 700 thous. tons of coated pipes.
The integrated Management System ensuring stable high quality of the products to the customers is functioning at "Khartsyzsk PIPE PLANT". API SpecQ1, ISO 9001, ISO 14001, OHSAS 18001, GOST ISO 9001, DSTU ISO 9001, STO Gazprom 9001 create its foundation. Products of the plant are certified for compliance with requirements of API Spec 5L, API Spec 2B with the right of API monogram application, requirements of European Regulations for building products EC 305/2011/EU with the right of application of CE mark on pipes produced as per EN 10219-1 and EN 10219-2 standards as well as for compliance with the Directive 97/23/EC (AD 2000-Merkblatt W0/W4) for pipes produced as per EN 10217-1 and EN 10217-5 standards. Moreover, the products are certified in the national certification system as also for compliance with requirements of EN 10208-1-2, ISO 3183 and PN-EN ISO 3183 standards with the right of application of Polish safety sign "B".
In 2013 "KHARTSYZSK PIPE PLANT" successfully passed the certification audit of Energy Management System for compliance with ISO 50001 standard requirements. "Lean Enterprise" program is actively implemented in the main and auxiliary subdivisions of KHARTSYZSK PIPE. In 2013 the plant became the leader of "Lean enterprise" program implementation and headed the list among Ukrainian assets of Metinvest Group owing to its active position.
METINVEST GROUP is a vertically integrated steel and mining group of companies, managing every link of the value chain, from mining and processing iron ore and coal to making and selling semi-finished and finished steel products. The Group comprises steel and mining production facilities located inUkraine, Europe and theUSA and has a sales network covering all key global markets. Metinvest Group is structured into two operating divisions: Metallurgical and Mining Divisions and has a strategic vision to become the leading vertically integrated steel producer in Europe, and to deliver sustainable growth and profitability resilient to business cycles, providing investors with returns at above the industry benchmarks. The Group generated US$8.4 billion of revenues and a 24% EBITDA margin for the first nine months of 2014 ended on September 30, 2014.
The major shareholders of METINVEST B.V. (a holding company of Metinvest Group) are SCM Group (71.24%) and Smart Group (23.76%), partnering in the Group's management.
METINVEST HOLDING, LLC is the managing company of Metinvest Group.