20 February 2015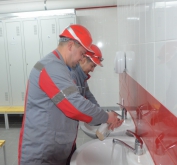 Over the past year about 3 million UAH was given by KHARTSYZSK PIPE PLANT of Metinvest Group to improve conditions of life and work of its employees. Recently doors of the repaired bath of locomotive depot of railway shop, for renovation of which the enterprise invested 540 thousand UAH were open.
Only modern construction materials and equipment were used to repair the premises. Qualified approach allowed creating the necessary comfort to each employee, as well as increasing the operation life of baths. As a result, actually new complex with modern equipment had opened for the railway shop workers.
The last renovation of the sanitary and amenity premises was made in the late 90's, and was more like a cosmetic rather than a capital one. The moisture often accumulated in the bath, dampness influenced on the floor slabs, amenity premises were obsolete and outdated. Modern renovation provided the opportunity not only to get rid of the problems, but also introduce many new changes.
Old windows and doors are replaced with plastic, walls and floor are revetted with new tile, the boiler is installed, and all communication lines are changed. A fundamentally new premise is created in amenity building – it is a room for drying work clothes. And thanks to the new ventilating system fitted out with the modern equipment, air temperature indoors can now be regulated.
— We even did not expect that in such difficult time for everyone the bath of locomotive depot would be renovated, and at such high level! It's nice that despite the difficult situation in the region, the company has made every effort for employees to have good and homely living conditions, - Igor Gorbachuk, the head of Railway Shop Service, said.
It became possible to make the capital repair of the sanitary and amenity premises of Railway Shop of KHARTSYZSK PIPE PLANT thanks to the corporate social program called "Working Life".
— Even in such hard time any project according to the Working Life program on KHARTSYZSK PIPE PLANT has not been stopped. We continue to create worthy conditions for plant workers, and capital repairs of the bath in Railway Shop is one of many good examples that staff working environment is a priority for us, - Roman Tsukurov, the Director for Human Resources and Social Policy of KHARTSYZSK PIPE PLANT, said.
For editors:

PUBLIC JOINT STOCK COMPANY "KHARTSYZSK PIPE PLANT" is the largest company in Ukraine and one of the largest enterprises in Europe for large diameter pipes manufacture. The company manufactures longitudinal SAW pipes of 508-1422 mm in diameter with external anticorrosion and internal anticorrosion or flow coating for main oil and gas pipelines. Plant's facilities permit to manufacture more than 1.3 mln. tons of pipes per year, including 700 thous. tons of coated pipes.

The integrated Management System ensuring stable high quality of the products to the customers is functioning at "Khartsyzsk PIPE PLANT". APISpecQ1, ISO 9001, ISO 14001, OHSAS 18001, GOST ISO 9001, DSTU ISO 9001, STO Gazprom 9001 create its foundation. Products of the plant are certified on compliance to requirements of APISpec 5L, APISpec 2B, with the right to apply the monogram of API, on compliance to requirements of the European Regulations for construction production of EC 305/2011/EU with the right to apply the mark CE for the pipes manufactured according to the EN 10219-1 and EN 10219-2 standards and for compliance to the Directive 97/23/EC (AD 2000-Merkblatt W0/W4) for the pipes manufactured according to the EN 10217-1, EN 10217-5 standards. Besides, production is certified in national system of certification and on compliance to requirements of the EN 10208-1-2, ISO 3183 and PN-ENISO 3183 standards, with the right to apply the Polish mark of safety 'B'.

In 2013 Khartsyzsk pipe plant successfully passed the certified audit of System of power management on compliance to requirements of the ISO 50001 standard. In the main and auxiliary divisions of Khartsyzsk pipe the program "Lean Enterprise" is actively implemented. Thanks to the active position in 2013 Khartsyzsk pipe became the leader of introduction of the Economical Enterprise Program and won first place among the Ukrainian assets of the Metinvest Group.

METINVEST is a international vertically integrated steel and mining group of companies, managing every link of the value chain, from mining and processing iron ore and coal to making and selling semi-finished and finished steel products. The Group comprises steel and mining production facilities located in Ukraine, Europe and the USA and has a sales network covering all key global markets. Metinvest Group is structured into Metallurgical and Mining Divisions. According to the strategic vision of Group to become the leading vertically integrated steel producer in Europe, with sustainable growth and profitability resilient to business cycles, providing investors with returns at above the industry benchmarks. The Group generated USD 8.4 milliard of revenues and a 24% EBITDA margin for the first nine months of 2014 finished on the 30th of September of 2014.

The major shareholders of METINVEST B.V. (a holding company of Metinvest Group) are SCM Group (71.24%) and Smart Group (23.76%), partnering in the Company's management.

METINVEST HOLDING, LLC is the managing company of Metinvest Group.

For additional information, please, visit http://pipe.metinvestholding.com/en