6 February 2015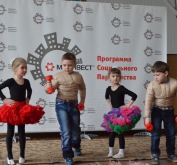 With the We Improve the Town competition of Metinvest many important social projects are realized in kindergartens, educational and medical institutions of Khartsyzsk in 2014. KHARTSYZSK PIPE PLANT funded 0.5 mln UAH for realization of the best initiatives of town residents.
At the beginning of last year 43 applications were submitted for consideration of Advisory Board of the We Improve the Town competition. 12 projects which had won funding from khartsyzsk pipe plant and Metinvest Group became winners. The training tutorials where listeners learned how to realize the ideas more correctly and more effectively were held.
Winners got into gear. By summer the majority of projects had passed the initial stage, activists were preparing to purchase the equipment, to make repair works, and were clearing the territory. But the amendments to plans of Khartsyzsk enthusiasts were made by the beginning of military operations in Donbas. A lot of organizations and institutes stopped working on the territory of the region. Because of that some projects were temporarily suspended. However, the desire to make the town better, optimism and aspiration to achieve the goals helped the heads to finish almost all the ideas successfully.
With financial support from Metinvest and thanks to efforts of activists there were new social objects in Khartsyzsk. In Svetlyachok preschool institution the unique sensory room (the room of psychological relief of kids) is opened, and the new modern equipment and exercise machines is bought for the sports hall of kindergarten called "Charivnytsya". Welcome, the first grader!, the first educational center is opened in the regular school No. 3, and the school No. 6 has the studio of esthetic growth called Talents Fairy Show. Teachers of all schools in Khartsyzsk will master new computer technologies in specially equipped educational room. Pupils and town residents will be able to play sports on the territory of Khartsyzsk professional lyceum where reconstruction of basketball and volleyball grounds was made.
khartsyzsk pipe plant made the contribution to development of medicine. Now the group for preparation for pregnancy and childbirth called Waiting for a miracle is opened in the central town hospital of Khartsyzsk. Also the office on treatment and prevention of diseases of spine and locomotor system began to work.
We Improve the Town competition of Metinvest takes place in Khartsyzsk for the third year running and has become the good opportunity for enthusiasts to show activity and to realize their ideas. During this time the tens of important new social objects which continue to bring benefit to residents of Khartsyzsk have appeared.
For editors:

PUBLIC JOINT STOCK COMPANY "KHARTSYZSK PIPE PLANT" is the largest company in Ukraine and one of the largest enterprises in Europe for large diameter pipes manufacture. The company manufactures longitudinal SAW pipes of 508-1422 mm in diameter with external anticorrosion and internal anticorrosion or flow coating for main oil and gas pipelines. Plant's facilities permit to manufacture more than 1.3 mln. tons of pipes per year, including 700 thous. tons of coated pipes.

The integrated Management System ensuring stable high quality of the products to the customers is functioning at "KHARTSYZSK PIPE PLANT". APISpecQ1, ISO 9001, ISO 14001, OHSAS 18001, GOST ISO 9001, DSTU ISO 9001, STO Gazprom 9001 create its foundation. Products of the plant are certified on compliance to requirements of APISpec 5L, APISpec 2B, with the right to apply the monogram of API, on compliance to requirements of the European Regulations for construction production of EC 305/2011/EU with the right to apply the mark CE for the pipes manufactured according to the EN 10219-1 and EN 10219-2 standards and for compliance to the Directive 97/23/EC (AD 2000-Merkblatt W0/W4) for the pipes manufactured according to the EN 10217-1, EN 10217-5 standards. Besides, production is certified in national system of certification and on compliance to requirements of the EN 10208-1-2, ISO 3183 and PN-ENISO 3183 standards, with the right to apply the Polish mark of safety 'B'.

In 2013 KHARTSYZSK PIPE PLANT successfully passed the certified audit of System of power management on compliance to requirements of the ISO 50001 standard. In the main and auxiliary divisions of KHARTSYZSK PIPE the program "Lean Enterprise" is actively implemented. Thanks to the active position in 2013 KHARTSYZSK PIPE became the leader of introduction of the Economical Enterprise Program and won first place among the Ukrainian assets of the Metinvest Group.
METINVEST is a international vertically integrated steel and mining group of companies, managing every link of the value chain, from mining and processing iron ore and coal to making and selling semi-finished and finished steel products. The Group comprises steel and mining production facilities located in Ukraine, Europe and the USA and has a sales network covering all key global markets. Metinvest Group is structured into Metallurgical and Mining Divisions. According to the strategic vision of Group to become the leading vertically integrated steel producer in Europe, with sustainable growth and profitability resilient to business cycles, providing investors with returns at above the industry benchmarks. The Group generated USD 8.4 milliard of revenues and a 24% EBITDA margin for the first nine months of 2014 finished on the 30th of September of 2014.
The major shareholders of METINVEST B.V. (a holding company of Metinvest Group) are SCM Group (71.24%) and Smart Group (23.76%), partnering in the Company's management.
METINVEST HOLDING, LLC is the managing company of Metinvest Group.

For additional information, please, visit http://pipe.metinvestholding.com/en