30 January 2015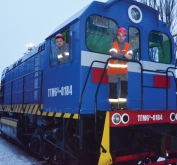 A shunting diesel locomotive of TGM6 V-0184 type went into service after overhauling at Khartsyzsk Pipe Plant of Metinvest Group. Investments of the company amounted to more than UAH 1.67 million.
The frequency of the planned overhauls for locomotives of TGM6 V-0184 type – one time per 6 years. All the core components have been removed from the locomotive during the repair. There was only one corpus. All nodes have been thoroughly inspected, cleaned and subjected to preventative measures: diesel and locomotive underframe, hydraulic transmission, fuel equipment, secondary and electrical equipment, shock-traction mechanisms. Many parts were replaced.
In May of last year the locomotive was sent to Dimitrov (Donetsk region) for overhauling. The repaired machine had to be taken away at the end of August. But it did not happen. A wave of active hostilities came to Khartsyzsk. That is why hoot of locomotive of TGM-6 V-0184 type could be heard only in December.
"The situation for such long trips was not favorable", - Igor Gorbachuk , Head of railway shop stock department of Khartsyzsk Pipe, has said. "A lot of railway connections were damaged because of fightings , that is why locomotives drivers had to move by indirect route and we could not predict how long it would take".
The young specialists, Alexander Bandurin (locomotive driver) and Sergey Aleshin (locomotive driver's assistant) were ready to help to transfer the locomotive to the plant . The workers of Khartsyzsk Pipe coped with assigned mission with success. But on the way they encountered with some difficulties. The lokomotiv was sent for repairs in warm season , that is why it wasn't equipped with stove. So-called "burshuyka" (potbelly stove) was sent to Dimitrov for heating.

Locomotive drivers were on the way for 10 days and came to the plant in December, 17. Thanks to their professionalism and courage, the locomotive performs important tasks at Khartsyzsk Pipe and again ensures stable operation of the company.
For editors:

PUBLIC JOINT STOCK COMPANY "KHARTSYZSK PIPE PLANT" is the largest company in Ukraine and one of the largest enterprises in Europe for large diameter pipes manufacture. The company manufactures longitudinal SAW pipes of 508-1422 mm in diameter with external anticorrosion and internal anticorrosion or flow coating for main oil and gas pipelines. Plant's facilities permit to manufacture more than 1.3 mln. tons of pipes per year, including 700 thous. tons of coated pipes.

The integrated Management System ensuring stable high quality of the products to the customers is functioning at "KHARTSYZSK PIPE PLANT". APISpecQ1, ISO 9001, ISO 14001, OHSAS 18001, GOST ISO 9001, DSTU ISO 9001, STO Gazprom 9001 create its foundation. Products of the plant are certified on compliance to requirements of APISpec 5L, APISpec 2B, with the right to apply the monogram of API, on compliance to requirements of the European Regulations for construction production of EC 305/2011/EU with the right to apply the mark CE for the pipes manufactured according to the EN 10219-1 and EN 10219-2 standards and for compliance to the Directive 97/23/EC (AD 2000-Merkblatt W0/W4) for the pipes manufactured according to the EN 10217-1, EN 10217-5 standards. Besides, production is certified in national system of certification and on compliance to requirements of the EN 10208-1-2, ISO 3183 and PN-ENISO 3183 standards, with the right to apply the Polish mark of safety 'B'.

In 2013 KHARTSYZSK PIPE PLANT successfully passed the certified audit of System of power management on compliance to requirements of the ISO 50001 standard. In the main and auxiliary divisions of KHARTSYZSK PIPE the program "Lean Enterprise" is actively implemented. Thanks to the active position in 2013 KHARTSYZSK PIPE became the leader of introduction of the Economical Enterprise Program and won first place among the Ukrainian assets of the Metinvest Group.
METINVEST is a international vertically integrated steel and mining group of companies, managing every link of the value chain, from mining and processing iron ore and coal to making and selling semi-finished and finished steel products. The Group comprises steel and mining production facilities located in Ukraine, Europe and the USA and has a sales network covering all key global markets. Metinvest Group is structured into Metallurgical and Mining Divisions. According to the strategic vision of Group to become the leading vertically integrated steel producer in Europe, with sustainable growth and profitability resilient to business cycles, providing investors with returns at above the industry benchmarks. The Group generated USD 8.4 milliard of revenues and a 24% EBITDA margin for the first nine months of 2014 finished on the 30th of September of 2014.
The major shareholders of METINVEST B.V. (a holding company of Metinvest Group) are SCM Group (71.24%) and Smart Group (23.76%), partnering in the Company's management.
METINVEST HOLDING, LLC is the managing company of Metinvest Group.

For additional information, please, visit http://pipe.metinvestholding.com/en