30 January 2015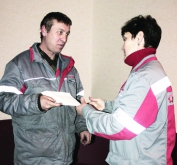 Due to the continued hostilities and bombing of the town, houses of more than 70 employees of KHARTSYZSK PIPE PLANT were significantly affected. The Humanitarian Centre "Our Assistance for You" of Rinat Akhmetov Foundation, Metinvest Group, KHARTSYZSK PIPE management, trade committee of the enterprise as well as concerned plant workers provide financial assistance for reconstruction of employees apartments and houses.
Since August last year during active hostilities Khartsyzk is attacked by shell and mortal fire. As a result, houses of many residents is affected including employees of KHARTSYZSK PIPE PLANT. Windows and balconies of some people were broken and destroyed by burst waves and some workers were left homeless.

Thanks to the financial support of the Humanitarian Centre, trade committee of the enterprise and concerned employees it became possible to restore glazing, replace windows and doors, repair balconies and houses fronts completely or partially in many apartments. Repair work is continuing. The plant with the support of the company and the Humanitarian Centre does not left employees alone with their problems and continues to help them.

"Our apartment was completely burned down with all things and furniture. There was no mobile communication that day so we learned this terrible news from the Internet. Next day we returned home and could not believe that this happened to us. We thank so much to our plant management, Metinvest and all employees for their assistance and support. We have already set the windows to prevent water entry inside the apartment. In spring we will try to restore it", Natalya Pogrebnyak, the production engineer of PEWSh-2, said.

Houses of some workers of KHARTSYZSK PIPE PLANT sustained great damage. They say that lightning never strikes twice in the same place, however, a shell hit to the apartment of Gennady Datseva, the metal worker of Mechanical and Repair Shop, three times:

"The apartment is completely destroyed," said Gennady. "I don't even know if it is possible to restore it. We will think about it in spring. I would like to say sincere thanks to my colleagues, Rinat Akhmetov Foundation and everyone who was not indifferent, provided material assistance and moral support. I know that this sum is not enough to restore my apartment. But it will be very useful to pay for the rent house".

Now the situation in Khartsyzsk is not a quiet one. Almost every day residents hear salvo fires near the town. In spite of everything, the plant workers believe that the peace will come soon and Khartsyzsk will revert to ordinary life.
For editors:

PUBLIC JOINT STOCK COMPANY "KHARTSYZSK PIPE PLANT" is the largest company in Ukraine and one of the largest global producers of large diameter pipes. The company manufactures longitudinal SAW pipes (508-1422 mm in diameter) with external anticorrosion and internal anticorrosion or flow coating for main oil and gas pipelines. Plant's facilities permit to manufacture more than 1.3 mln. tons of pipes per year, including 700 thous. tons of coated pipes.

The integrated Management System ensuring stable high quality of the products to the customers is functioning at "KHARTSYZSK PIPE PLANT". API SpecQ1, ISO 9001, ISO 14001, OHSAS 18001, GOST ISO 9001, DSTU ISO 9001, STO Gazprom 9001 create its foundation. Products of the plant are certified for compliance with requirements of API Spec 5L, API Spec 2B with the right of API monogram application, requirements of European Regulations for building products EC 305/2011/EU with the right of application of CE mark on pipes produced as per EN 10219-1 and EN 10219-2 standards as well as for compliance with the Directive 97/23/EC (AD 2000-Merkblatt W0/W4) for pipes produced as per EN 10217-1 and EN 10217-5 standards. Moreover, the products are certified in the national certification system as also for compliance with requirements of EN 10208-1-2, ISO 3183 and PN-EN ISO 3183 standards with the right of application of Polish safety sign "B".

In 2013 "KHARTSYZSK PIPE PLANT" successfully passed the certification audit of Energy Management System for compliance with ISO 50001 standard requirements."Lean Enterprise" program is actively implemented in the main and auxiliary subdivisions of KHARTSYZSK PIPE. In 2013 the plant became the leader of "Lean enterprise" program implementation and headed the list among Ukrainian assets of Metinvest Group owing to its active position.
METINVEST GROUP is a vertically integrated steel and mining group of companies, managing every link of the value chain, from mining and processing iron ore and coal to making and selling semi-finished and finished steel products. The Group comprises steel and mining production facilities located in Ukraine, Europe and the USA and has a sales network covering all key global markets. Metinvest Group is structured into two operating divisions: Metallurgical and Mining Divisions and has a strategic vision to become the leading vertically integrated steel producer in Europe, and to deliver sustainable growth and profitability resilient to business cycles, providing investors with returns at above the industry benchmarks. The Group generated US$8.4 billion of revenues and a 24% EBITDA margin for the first nine months of 2014 ended on September 30, 2014.
The major shareholders of METINVEST B.V. (a holding company of Metinvest Group) are SCM Group (71.24%) and Smart Group (23.76%), partnering in the Group's management.
METINVEST HOLDING, LLC is the managing company of Metinvest Group.

For additional information, please, visit http://pipe.metinvestholding.com/en