25 December 2014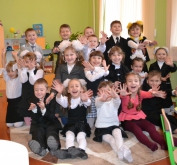 The new modern educational facility called "Welcome, first-grader!" is opened for the smallest pupils of comprehensive school No. 3 in Khartsyzsk. Using this facility the children will be able to adapt quickly and effectively to the learning process. The idea of creating the Centre is supported and financed by KHARTSYZSK PIPE PLANT of Metinvest Group.
The project has been brought to life by virtue of the "We Improve the Town" competition of Metinvest Group. Teachers note that the first year of the child at school is the period, when he or she habituates to new environment, new collective. Therefore, within the project the teachers of comprehensive school No. 3 set a goal to provide conditions for successful adaptation and full development of first-graders and future schoolchildren.

The rooms of the Educational Centre called "Welcome, first-grader" are capitally repaired and divided into several developing zones. One of them is an educational space where the new furniture, an educational magnetic board, a modern TV is installed. Here the children will learn to read, write, draw and create. For active recreation sports and health and play zones are equipped. Children can play in the dry basin with balls, jump on soft modules and run on massage rugs. Having a rest with advantage for themselves, children collect construction kits, play board games, and compose mosaic and puzzles. The light tablet for drawing using sand will help for future first-graders to expand perception of surrounding world. The "Skilled Hands" zone is equipped for an exhibition of children's hand-made crafts and drawings.
"It is quite difficult for child at six to sit down at a school desk. So our Centre promotes development of thinking, memory, motility of hands and physical opportunities of future first-graders using the game techniques. We'd like children to go studying with pleasure and to learn all basics and wisdoms of school. This project became possible thanks to KHARTSYZSK PIPE PLANT and Metinvest. And we appreciate them for the help!" – Olga Pavlovna Zabava, the deputy headmaster for curriculum and discipline of comprehensive school No. 3 mentioned.
New Educational Centre called "Welcome, first-grader" became a powerful contribution to development of elementary school. Children attend classes with pleasure, and parents of first-graders have already managed to estimate advantages of the new facility.
"My child enjoys this wonderful center for first-graders! Here he receives a huge amount of information and knowledge. Most importantly, the child can show himself, can play and develop. Thanks to the new class any first-grader can easily adapt to school" – Tatyana Yablokova, the mother of first-grader of comprehensive school No. 3 says.
For editors:

PUBLIC JOINT STOCK COMPANY "KHARTSYZSK PIPE PLANT" is the largest company in Ukraine and one of the largest enterprises in Europe for large diameter pipes manufacture. The company manufactures longitudinal SAW pipes of 508-1422 mm in diameter with external anticorrosion and internal anticorrosion or flow coating for main oil and gas pipelines. Plant's facilities permit to manufacture more than 1.3 mln. tons of pipes per year, including 700 thous. tons of coated pipes.

The integrated Management System ensuring stable high quality of the products to the customers is functioning at "KHARTSYZSK PIPE PLANT". APISpecQ1, ISO 9001, ISO 14001, OHSAS 18001, GOST ISO 9001, DSTU ISO 9001, STO Gazprom 9001 create its foundation. Products of the plant are certified on compliance to requirements of APISpec 5L, APISpec 2B, with the right to apply the monogram of API, on compliance to requirements of the European Regulations for construction production of EC 305/2011/EU with the right to apply the mark CE for the pipes manufactured according to the EN 10219-1 and EN 10219-2 standards and for compliance to the Directive 97/23/EC (AD 2000-Merkblatt W0/W4) for the pipes manufactured according to the EN 10217-1, EN 10217-5 standards. Besides, production is certified in national system of certification and on compliance to requirements of the EN 10208-1-2, ISO 3183 and PN-ENISO 3183 standards, with the right to apply the Polish mark of safety 'B'.

In 2013 KHARTSYZSK PIPE PLANT successfully passed the certified audit of System of power management on compliance to requirements of the ISO 50001 standard. In the main and auxiliary divisions of KHARTSYZSK PIPE the program "Lean Enterprise" is actively implemented. Thanks to the active position in 2013 KHARTSYZSK PIPE became the leader of introduction of the Economical Enterprise Program and won first place among the Ukrainian assets of the Metinvest Group.
METINVEST is a international vertically integrated steel and mining group of companies, managing every link of the value chain, from mining and processing iron ore and coal to making and selling semi-finished and finished steel products. The Group comprises steel and mining production facilities located in Ukraine, Europe and the USA and has a sales network covering all key global markets. Metinvest Group is structured into Metallurgical and Mining Divisions. According to the strategic vision of Group to become the leading vertically integrated steel producer in Europe, with sustainable growth and profitability resilient to business cycles, providing investors with returns at above the industry benchmarks. The Group generated USD 8.4 milliard of revenues and a 24% EBITDA margin for the first nine months of 2014 finished on the 30th of September of 2014.
The major shareholders of METINVEST B.V. (a holding company of Metinvest Group) are SCM Group (71.24%) and Smart Group (23.76%), partnering in the Company's management.
METINVEST HOLDING, LLC is the managing company of Metinvest Group.

For additional information, please, visit http://pipe.metinvestholding.com/en