24 December 2014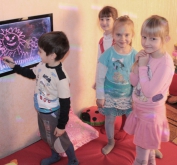 "The Wonderful World" project was implemented in kindergarten "Svetlyachok" within the competition "We Improve the Town" by Metinvest Group. With financial support from Khartsyzsk Pipe Plant sensory room was designed to help children to maintain their emotional balance and psychological health. The town doesn't have analogues of such room yet.
Sensory room - is a special approach to the child's stay in kindergarten. Here, using a variety of equipment, the atmosphere of comfort and safety is created, kids may relieve their emotional stress, develop their motor skills, thinking, imagination. Lighting decoration "Star sky", "Light stream", "Light shower", "Water bubble column", "Mirror ball" creates the magic atmosphere of the room. Children have a lot of positive emotions playing in "Dry basin" and with the help of soft facility called "Lesheboka" kids can relax and admire the star sky projection. Boys and girls may expand their perception of the world with the help of interactive light panel for drawing, specialized soft toys and playing with sand. Air ionizer and aromatherapy is used for immunity improvement. All of these create a new developmental environment that helps children to be themselves.
"We are grateful to Metinvest and Khartsyzsk Pipe Plant for our teachers' dreams come true. The project "The Wonderful World" is very important for children at the present moment, when we have such difficult time. Sensory room helps children to feel emotional balance, get rid of fears and rueful feelings. Our children become more cheerful and active", - Irina Zaitseva, head of kindergarten "Svetlyachok", has said.
Children have classes in small groups in the sensory room - no more than 4 children. Therefore, pupils have time to play and to have fun and to get new knowledge.
"Children are delighted with the sensory room! Everything is so bright and colorful, kids are very happy. They play with interest and may express their feelings. We want to have more such good projects in Khartsyzsk. We express admiration and gratitude to our patrons!" - mother of one of the children of the kindergarten, Tatiana Molchanova has said.
For editors:

PUBLIC JOINT STOCK COMPANY "KHARTSYZSK PIPE PLANT" is the largest company in Ukraine and one of the largest enterprises in Europe for large diameter pipes manufacture. The company manufactures longitudinal SAW pipes of 508-1422 mm in diameter with external anticorrosion and internal anticorrosion or flow coating for main oil and gas pipelines. Plant's facilities permit to manufacture more than 1.3 mln. tons of pipes per year, including 700 thous. tons of coated pipes.

The integrated Management System ensuring stable high quality of the products to the customers is functioning at "KHARTSYZSK PIPE PLANT". APISpecQ1, ISO 9001, ISO 14001, OHSAS 18001, GOST ISO 9001, DSTU ISO 9001, STO Gazprom 9001 create its foundation. Products of the plant are certified on compliance to requirements of APISpec 5L, APISpec 2B, with the right to apply the monogram of API, on compliance to requirements of the European Regulations for construction production of EC 305/2011/EU with the right to apply the mark CE for the pipes manufactured according to the EN 10219-1 and EN 10219-2 standards and for compliance to the Directive 97/23/EC (AD 2000-Merkblatt W0/W4) for the pipes manufactured according to the EN 10217-1, EN 10217-5 standards. Besides, production is certified in national system of certification and on compliance to requirements of the EN 10208-1-2, ISO 3183 and PN-ENISO 3183 standards, with the right to apply the Polish mark of safety 'B'.

In 2013 KHARTSYZSK PIPE PLANT successfully passed the certified audit of System of power management on compliance to requirements of the ISO 50001 standard. In the main and auxiliary divisions of KHARTSYZSK PIPE the program "Lean Enterprise" is actively implemented. Thanks to the active position in 2013 KHARTSYZSK PIPE became the leader of introduction of the Economical Enterprise Program and won first place among the Ukrainian assets of the Metinvest Group.
METINVEST is a international vertically integrated steel and mining group of companies, managing every link of the value chain, from mining and processing iron ore and coal to making and selling semi-finished and finished steel products. The Group comprises steel and mining production facilities located in Ukraine, Europe and the USA and has a sales network covering all key global markets. Metinvest Group is structured into Metallurgical and Mining Divisions. According to the strategic vision of Group to become the leading vertically integrated steel producer in Europe, with sustainable growth and profitability resilient to business cycles, providing investors with returns at above the industry benchmarks. The Group generated USD 8.4 milliard of revenues and a 24% EBITDA margin for the first nine months of 2014 finished on the 30th of September of 2014.
The major shareholders of METINVEST B.V. (a holding company of Metinvest Group) are SCM Group (71.24%) and Smart Group (23.76%), partnering in the Company's management.
METINVEST HOLDING, LLC is the managing company of Metinvest Group.

For additional information, please, visit http://pipe.metinvestholding.com/en