11 December 2014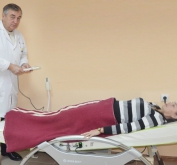 A new room for treatment and prevention of the spine and musculoskeletal system diseases was equipped in the Central Town Hospital of Khartsyzsk. KHARTSYZSK PIPE PLANT of Metinvest Group financed the project.
One more project of Metinvest competition "We Improve the City" – "New medical methods for residents benefit!" – was realized in Khartsyzsk. As a result, the medical and preventive room for patients with the spine and musculoskeletal system pathologies started its work in the Central Town Hospital.

The major repair of premises was performed in a new therapeutic complex, old windows and doors were replaced with new energy-saving ones. Modern equipment was purchased. Now the Central Town Hospital is the holder of the unique device for the complex massage - "NUGA Best" bed. Evminov's preventive device for the spine muscles special exercise and spine nutrition improvement was bought as well as a treadmill, which tones up and strengthens various muscle groups.

"I am one of those people who felt the effectiveness of the massage bed. My state of health showed a great improvement, sleeping normalized, I have no back pain, the general condition is very good. Next year I would like to try to perform exercises on an exercise bike! It is great that KHARTSYZSK PIPE PLANT presented such a wonderful health-improving room to the town residents!", Alla Lysenko, one of the visitors of the new room, said with thanks.

In medical professionals' opinion, functioning of many human organs depends upon a spine health condition. Doctors believe that the improvement in treatment quality will yield favourable results to patients very soon.

"The new room is a good support for treatment of the musculoskeletal system diseases. The equipment allows to achieve good results in the complex therapy for patients. People note significant improvement. Various functions are normalized but the most important thing is improving the quality of life. I would like to express gratitude to KHARTSYZSK PIPE PLANT and Metinvest on behalf of doctors and all patients. Even in this difficult time, as at all times, the plant found the means to buy the expensive, vital equipment. I hope that our room will help to restore the health of many townspeople", Igor Katsenko, Deputy Chief Doctor of Khartsyzsk Central Town Hospital, said.
For editors:

PUBLIC JOINT STOCK COMPANY "KHARTSYZSK PIPE PLANT" is the largest company in Ukraine and one of the largest global producers of large diameter pipes. The company manufactures SAW longitudinal pipes (508-1422 mm in diameter) with external anticorrosion and internal anticorrosion or flow coating for main oil and gas pipelines. Plant's facilities permit to manufacture more than 1.3 mln. tons of pipes per year, including 700 thous. tons of coated pipes.

The integrated Management System ensuring stable high quality of the products to the customers is functioning at "KHARTSYZSK PIPE PLANT". API SpecQ1, ISO 9001, ISO 14001, OHSAS 18001, GOST ISO 9001, DSTU ISO 9001, STO Gazprom 9001 create its foundation. Products of the plant are certified for compliance with requirements of API Spec 5L, API Spec 2B with the right of API monogram application, requirements of European Regulations for building products EC 305/2011/EU with the right of application of CE mark on pipes produced as per EN 10219-1 and EN 10219-2 standards as well as for compliance with the Directive 97/23/EC (AD 2000-Merkblatt W0/W4) for pipes produced as per EN 10217-1 and EN 10217-5 standards. Moreover, the products are certified in the national certification system as also for compliance with requirements of EN 10208-1-2, ISO 3183 and PN-EN ISO 3183 standards with the right of application of Polish safety sign "B".

In 2013 "KHARTSYZSK PIPE PLANT" successfully passed the certification audit of Energy Management System for compliance with ISO 50001 standard requirements.

"Lean Enterprise" program is actively implemented in the main and auxiliary subdivisions of KHARTSYZSK PIPE. In 2013 the plant became the leader of "Lean enterprise" program implementation and headed the list among Ukrainian assets of Metinvest Group owing to its active position.

Upon the results of 2013, "KHARTSYZSK PIPE PLANT" was awarded the social diploma of I level of qualification, showing the stable growth dynamics of "Working environment" program at the company.

The top-priority goals in the social policy of "KHARTSYZSK PIPE PLANT" as a mainstay of the entire town are the following: implementation of social programs and activities in education, health service and improvement of town infrastructure. In 2013 the volume of social investment of the company was approximately UAH 4 mln.

"KHARTSYZSK PIPE PLANT" is a part of Metallurgical Division of Metinvest Group.
METINVEST GROUP is a vertically integrated steel and mining group of companies, managing every link of the value chain, from mining and processing iron ore and coal to making and selling semi-finished and finished steel products. The Group comprises steel and mining production facilities located in Ukraine, Europe and the USA and has a sales network covering all key global markets. Metinvest Group is structured into two operating divisions: Metallurgical and Mining Divisions and has a strategic vision to become the leading vertically integrated steel producer in Europe, and to deliver sustainable growth and profitability resilient to business cycles, providing investors with returns at above the industry benchmarks. The Group generated US$2.9 billion of revenues and a 30% EBITDA margin for the first quarter of 2014.
The major shareholders of METINVEST B.V. (a holding company of Metinvest Group) are SCM Group (71.24%) and Smart Group (23.76%), partnering in the Group's management.
METINVEST HOLDING, LLC is the managing company of Metinvest Group.

For additional information, please, visit http://pipe.metinvestholding.com/en