8 December 2014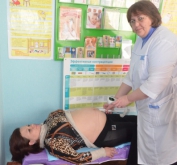 The Pregnancy and Childbirth Preparation Complex has been opened at the premises of maternity welfare centre of Khartsyzsk Central Town Hospital. "KHARTSYZSK PIPE PLANT" of Metinvest Group ensures appropriate financing of the Complex.
Another significant and outstanding project of Metinvest competition "We Improve the Town" is completed in Khartsyzsk. The Pregnancy and Childbirth Preparation Complex "Waiting for a miracle!" equipped with the new facilities has been opened in the town. The purpose of its creation is to preserve the reproductive health of mothers-to-be and give birth to healthy children in Khartsyzsk. Thanks to the new project, disease diagnostics and prevention, treatment of pregnant women and pre-natal watching the foetus will become more effective. The fetal monitor which will allow to control the mother's health, an oxygen cocktail unit for improvement of the general condition of pregnant women, the TV and the laptop for carrying out lectures and demonstrations of the training movies, sports equipment for gymnastics of pregnant women, and also furniture are purchased.
From 800 to 1000 women address to Khartsyzsk maternity welfare centre annually. The health care workers will provide group trainings and individual tuitions with mothers-to-be; carry out better monitoring of pre-natal condition of a foetus, oxygen vitaminization and treatment procedures, do exercises.
"Preparation for "miracle", I mean the birth of the child, the supreme value of our life and pleasure in a family, becomes the main sense for future mother. We used to work in many respects with the help of books and a kind word. But now with the help of KHARTSYZSK PIPE PLANT of Metinvest Group and enthusiasm of employees, the range of opportunities has considerably extended. Our project bears a great virtue and, I am sure, will help women to give birth to healthy children, to be prepared and prevent all complications", – Yelena Sedykh, Director of Maternity Welfare Centre, notes.
The Pregnancy and Childbirth Preparation Complex "Waiting for a miracle!" is popular among young mothers. Record of participants and classes are held daily in several groups.
"I really like it. Here you can learn more detailed information. On the Internet there are a lot of things, but nevertheless the care and assistance of doctors and specialists are topside. I visit both trainings and gymnastic exercises. It is remarkable that in Khartsyzsk in such hard time has opened the complex for pregnant women, because a lot of things you need to know and grow!" – Irina Zelinskaya, happy mom in near future said.
For editors:

PUBLIC JOINT STOCK COMPANY "KHARTSYZSK PIPE PLANT" is the largest company in Ukraine and one of the largest enterprises in Europe for pipes manufacture. The company manufactures longitudinal SAW large diameter pipes of 508-1422 mm in diameter with external anticorrosion and internal anticorrosion or flow coating for main oil and gas pipelines. Plant's facilities permit to manufacture more than 1.3 mln. tons of pipes per year, including 700 thous. tons of coated pipes.

The integrated Management System ensuring stable high quality of the products to the customers is functioning at "KHARTSYZSK PIPE PLANT". APISpecQ1, ISO 9001, ISO 14001, OHSAS 18001, GOST ISO 9001, DSTU ISO 9001, STO Gazprom 9001 create its foundation. Products of the plant are certified on compliance to requirements of APISpec 5L, APISpec 2B, with the right to apply the monogram of API, on compliance to requirements of the European Regulations for construction production of EC 305/2011/EU with the right to apply the mark CE for the pipes manufactured according to the EN 10219-1 and EN 10219-2 standards and for compliance to the Directive 97/23/EC (AD 2000-Merkblatt W0/W4) for the pipes manufactured according to the EN 10217-1, EN 10217-5 standards. Besides, production is certified in national system of certification and on compliance to requirements of the EN 10208-1-2, ISO 3183 and PN-ENISO 3183 standards, with the right to apply the Polish mark of safety 'B'.

In 2013 KHARTSYZSK PIPE PLANT successfully passed the certified audit of System of power management on compliance to requirements of the ISO 50001 standard.

In the main and auxiliary divisions of KHARTSYZSK PIPE the program "Lean Enterprise" is actively implemented. Thanks to the active position in 2013 KHARTSYZSK PIPE became the leader of introduction of the Economical Enterprise Program and won first place among the Ukrainian assets of the Metinvest Group.

Following the results of 2013 KHARTSYZSK PIPE received the social certificate with the I level of certification which showed stable dynamics of development of the Working Life program at the enterprise.

The top-priority goals in the social policy of "KHARTSYZSK PIPE PLANT" as a mainstay of the entire town are implementation of social programs and activities in education, health service and improvement of town infrastructure. In 2013 the volume of social investment of the company was more than UAH 4 mln.

"KHARTSYZSK PIPE PLANT" is a part of Metallurgical Division of Metinvest Group.
METINVEST GROUP is a vertically integrated steel and mining group of companies, managing every link of the value chain, from mining and processing iron ore and coal to making and selling semi-finished and finished steel products. The Group comprises steel and mining production facilities located in Ukraine, Europe and the USA and has a sales network covering all key global markets. Metinvest Group is structured into two operating divisions: Metallurgical and Mining Divisions and has a strategic vision to become the leading vertically integrated steel producer in Europe, and to deliver sustainable growth and profitability resilient to business cycles, providing investors with returns at above the industry benchmarks. The Group generated USD 2.9 billion of revenues and a 30% EBITDA margin for the first quarter of 2014.
The major shareholders of METINVEST B.V. (a holding company of Metinvest Group) are SCM Group (71.24%) and Smart-Holding (23.76%), partnering in the Company's management.
METINVEST HOLDING, LLC is the managing company of Metinvest Group.

For additional information, please, visit http://pipe.metinvestholding.com/en