21 November 2014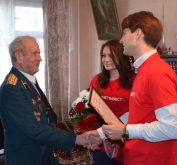 Active youth of PJSC "KHARTSYZSK PIPE PLANT" of Metinvest Group met with veterans of the Great Patriotic War, some of whom worked at the plant for several decades, presented them pecuniary and humanitarian assistance.
There is a quite difficult situation with social benefits in Khartsyzsk, as in many other cities of Donetsk region. Because of hostilities a lot of inhabitants of the town haven't yet received neither pensions nor social security benefits for several months.
The youth of Khartsyzsk Pipe Plant decided not to stand aside from the problems and first of all to help veterans of the Great Patriotic War, ex-employees of the plant.
Active youth visited veterans, handed flowers and grateful letters for their hard work and presented rewords in the amount of 1000 UAH in the name of administration of the plant. In view of the difficult situation in the region, financial support for veterans was useful. Volunteers also brought food sets from Humanitarian center "Aid+Help" by Rinat Akhmetov foundation . In view of their age, veterans could not receive humanitarian assistance by themselves, so it was brought to their home.
Absolutely everyone was glad to have this unexpected meeting. Nickolay Mikhaylovich Chesnokov was in war as private, he has awards for military services and this man had worked more than 20 years at Khartsyzsk Pipe Plant.
"I am pleased that native plant doesn't forget me. The best years of my life were here. I am grateful to a worthy change - young plant workers. It became warmer on my soul from their care, attention and kindness ", Nikolai Mikhailovich has said.
The young activists of Khartsyzsk Pipe Plant also were happy to have such meeting.
"It is great, that veterans are in such good mood. They didn't lose ability to enjoy life despite of all hardships that they had overcome. We want to thank them for their feat, for their long-term work for Khartsyzsk Pipe Plant. We are proud that we live next to these people and we are always ready to help them, " Julia Sherbakova, activist of the young organization, has said.
For editors:

PUBLIC JOINT STOCK COMPANY "KHARTSYZSK PIPE PLANT" is the largest company in Ukraine and one of the largest global producers of large diameter pipes. The company manufactures longitudinal SAW pipes (508-1422 mm in diameter) with external anticorrosion and internal anticorrosion or flow coating for main oil and gas pipelines. Plant's facilities permit to manufacture more than 1.3 mln. tons of pipes per year, including 700 thous. tons of coated pipes.

The integrated Management System ensuring stable high quality of the products to the customers is functioning at "Khartsyzsk PIPE PLANT". API SpecQ1, ISO 9001, ISO 14001, OHSAS 18001, GOST ISO 9001, DSTU ISO 9001, STO Gazprom 9001 create its foundation. Products of the plant are certified for compliance with requirements of API Spec 5L, API Spec 2B with the right of API monogram application, requirements of European Regulations for building products EC 305/2011/EU with the right of application of CE mark on pipes produced as per EN 10219-1 and EN 10219-2 standards as well as for compliance with the Directive 97/23/EC (AD 2000-Merkblatt W0/W4) for pipes produced as per EN 10217-1 and EN 10217-5 standards. Moreover, the products are certified in the national certification system as also for compliance with requirements of EN 10208-1-2, ISO 3183 and PN-EN ISO 3183 standards with the right of application of Polish safety sign "B".

In 2013 "KHARTSYZSK PIPE PLANT" successfully passed the certification audit of Energy Management System for compliance with ISO 50001 standard requirements.

"Lean Enterprise" program is actively implemented in the main and auxiliary subdivisions of KHARTSYZSK PIPE. In 2013 the plant became the leader of "Lean enterprise" program implementation and headed the list among Ukrainian assets of Metinvest Group owing to its active position.

Upon the results of 2013, "KHARTSYZSK PIPE PLANT" was awarded the social diploma of I level, showing the stable growth dynamics of "Working environment" program at the company.

The top-priority goals in the social policy of "KHARTSYZSK PIPE PLANT" as a mainstay of the entire town are implementation of social programs and activities in education, health service and improvement of town infrastructure. In 2013 the volume of social investment of the company was approximately UAH 4 mln.

"Khartsyzsk PIPE PLANT" is a part of Metallurgical Division of Metinvest Group.
METINVEST GROUP is a vertically integrated steel and mining group of companies, managing every link of the value chain, from mining and processing iron ore and coal to making and selling semi-finished and finished steel products. The Group comprises steel and mining production facilities located in Ukraine, Europe and the USA and has a sales network covering all key global markets. Metinvest Group is structured into two operating divisions: Metallurgical and Mining Divisions and has a strategic vision to become the leading vertically integrated steel producer in Europe, and to deliver sustainable growth and profitability resilient to business cycles, providing investors with returns at above the industry benchmarks. The Group generated US$2.9 billion of revenues and a 30% EBITDA margin for the first quarter of 2014.
The major shareholders of METINVEST B.V. (a holding company of Metinvest Group) are SCM Group (71.24%) and Smart Group (23.76%), partnering in the Company's management.
METINVEST HOLDING, LLC is the managing company of Metinvest Group.

For additional information, please, visit http://pipe.metinvestholding.com/en