2 April 2014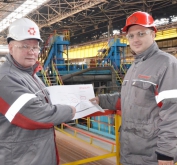 A project from Khartsyzsk Pipe Plant employees Yuriy Suvorov and Sergey Dorenskiy was recognized as one of the best submitted to a Metinvest competition of the best ideas on energy savings and efficient use of fuel and energy resources at its Metallurgical Division's enterprises.
A committee reviewed 15 ideas from five Metinvest metallurgical enterprises. The project by Suvorov, a maintenance foreman, and Sergey Dorenskiy, an electrician, came in third place. Both inventors work in Pipe Electric Welding Shop #2.
Their project is titled "Changes in compressed air supply to the hopper for removing the flux skin on outside joint welding mills." The implementation of this idea in the welding area of Pipe Electric Welding Shop #2 allowed for significant savings of compressed air - about 30%. Investments were minimal, but the effect can be measured in thousands of hryvnias.
"We introduced an idea that was supported by the plant's and company's management. This allows for more efficient work; it was needed and highly assessed. This attitude enables us to move forward," said Dorenskiy.
The plant's management rewards employees' initiatives that improve the efficiency of production. Pavel Uzbek, general director of the enterprise, gave tablet PCs to Suvorov and Dorenskiy for their initiative and finish in the contest.
"I can say for sure what unique features are specific to Khartsyzsk Pipe's employees: professionalism, personal leadership and involvement. Our specialists make Khartsyzsk Pipe a leading enterprise in many activities. Efficient ideas from our employees provide a strong foundation for the future development of the enterprise and a ticket for success," said Uzbek.
Energy saving measures are implemented at Khartsyzsk Pipe on a regular basis. The savings allow for reducing production costs and increasing product competitiveness. In 2013, the financial effect from the plant's energy saving program exceeded UAH 3 million.
For editors:

Khartsyzsk Pipe Plant is the largest pipe producer in Ukraine and one of the largest pipe producers in Europe. The company produces large diameter longitudinal submerged arc welded (LSAW) pipes from 508 mm to 1,422 mm with external corrosion-resistant and internal corrosion-resistant coating or flow coat for main oil and gas pipelines. The capacity of the plant is 1.3 million tons of pipes per year, including about 700,000 tons of coated pipes. Khartsyzsk Pipe has an integrated management system based on standards ISO 9001, ISO 14001, OHSAS 18001, API Spec Q1, DSTU ISO 9001, GOST Р ISO 9001, and STO Gazprom 9001. The plant's products have been certified by the American Petroleum Institute (U.S.), Zetom Research and Certification Institute (Poland) and UkrSepro (Ukraine). Welding operations are certified for compliance with ISO 3834-2. The plant was Metinvest's first Ukrainian enterprise to launch a lean enterprise program.

Metinvest Group is a vertically integrated group of steel and mining companies that manages every link of the value chain, from mining and processing iron ore and coal to making and selling semi-finished and finished steel products. It has steel and mining production facilities in Ukraine, Europe and the US, as well as a sales network covering all key global markets. Its strategic vision to become the leading vertically integrated steel producer in Europe, delivering sustainable growth and profitability resilient to business cycles and providing investors with returns above industry benchmarks. The Group reported revenue of USD 12.8 billion and an EBITDA margin of 18% in 2013. The major shareholders of Metinvest B.V. (the holding company for Metinvest Group) are SCM Group (71.25%) and Smart-Holding (23.75%), which partner in the Group's management. Metinvest Holding, LLC is the management company of Metinvest Group.