26 March 2014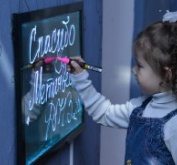 Participants of Metinvest Group's "We Improve the City" competition presented their projects to the public. An expert committee will now select the winners. The best initiatives will be receive grants from Metinvest Group's Khartsyzsk Pipe.
Due to the large number of ideas, the presentations were divided into several stages. Over three days, participants presented their projects and explained their relevance.
43 applications were submitted for the competition this year, eight more than last year. Ideas were proposed by schools, kindergartens, citizen initiative groups, public organizations, and medical and cultural institutions. The presented projects proved that Khartsyzsk residents are ready to improve their city. Some project participants had entered the competition before.
"Last year we won this competition. Thanks to Khartsyzsk Pipe, our kindergarten has a new recreational path. This time we want to establish a sports and fitness center for children – we want our kids to grow up healthy and strong. We really hope to win," said Viktoria Pasterskaya, a preschool teacher at the Kolobok Kindergarten.
In 2014, thanks to Metinvest Group, more interesting and important ideas from Khartsyzsk residents can become reality. This year the total grant fund was increased from UAH 350,000 to UAH 500,000, while the potential amount of individual grants went up to UAH 100,000.
"Khartsyzsk is our common home, and we can make it nicer and comfortable," said Pavel Uzbek, Khartsyzsk Pipe's general director. "We are ready to help the best projects of our citizens become reality. Our experience in previous years has showed that any good idea can be realized with the support of Khartsyzsk Pipe and Metinvest."
The winners of the competition will be announced in early April, after which they will start implementing their projects.
For editors:

Khartsyzsk Pipe Plant is the largest pipe producer in Ukraine and one of the largest pipe producers in Europe. The company produces large diameter longitudinal submerged arc welded (LSAW) pipes from 508 mm to 1,422 mm with external corrosion-resistant and internal corrosion-resistant coating or flow coat for main oil and gas pipelines. The capacity of the plant is 1.3 million tons of pipes per year, including about 700,000 tons of coated pipes. Khartsyzsk Pipe has an integrated management system based on standards ISO 9001, ISO 14001, OHSAS 18001, API Spec Q1, DSTU ISO 9001, GOST Р ISO 9001, and STO Gazprom 9001. The plant's products have been certified by the American Petroleum Institute (U.S.), Zetom Research and Certification Institute (Poland) and UkrSepro (Ukraine). Welding operations are certified for compliance with ISO 3834-2. The plant was Metinvest's first Ukrainian enterprise to launch a lean enterprise program.

Azovstal Iron and Steel Works is an up-to-date high-technology enterprise which produces a wide range of steel products such as: slabs, sections and shapes, rails, rail fastenings, square billets, heavy plates, and smelter slag products. Production capacity of the enterprise is over 5,5 million tons of pig iron, over 6,2 million tons of steel, over 4,4 million tons of rolled products.

Metinvest Group is a vertically integrated group of steel and mining companies that manages every link of the value chain, from mining and processing iron ore and coal to making and selling semi-finished and finished steel products. It has steel and mining production facilities in Ukraine, Europe and the US, as well as a sales network covering all key global markets. Its strategic vision to become the leading vertically integrated steel producer in Europe, delivering sustainable growth and profitability resilient to business cycles and providing investors with returns above industry benchmarks. The Group reported revenue of USD 12.8 billion and an EBITDA margin of 18% in 2013. The major shareholders of Metinvest B.V. (the holding company for Metinvest Group) are SCM Group (71.25%) and Smart-Holding (23.75%), which partner in the Group's management. Metinvest Holding, LLC is the management company of Metinvest Group.