26 March 2014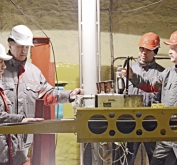 Metinvest Group's Khartsyzsk Pipe Plant installed a new x-ray television inspection system in Pipe Electric Welding Shop #2 that accepts pipes with wall thicknesses of more than 30 mm. The equipment has the latest software to detect the smallest defects. Investments into modernization totalled EUR 150,000.
Today, x-ray fluorescence is one of the most reliable and informative methods of quality control. The technical capabilities of industrial x-ray television inspection allow for not only detecting the smallest defects in metal but also obtaining comprehensive information about such defects.
The modern x-ray equipment will help the plant to thoroughly control the quality of products manufactured from steel plates. Due to its high efficiency, the equipment is able to x-ray pipes with wall thicknesses of more than 30 mm. These pipes have been in high demand from customers lately.
The new automated x-ray system is equipped with modern SOVA+ software. This system of image processing is, according to experts, one of the best in the world. The software includes algorithms for automated searching and checking defects to control radiation. It has over 140 different functions, many of which are unique both in terms of ideology and speed. The system is very easy to use. Views of any cross-sections and complete 3D imaging of inspected items provide for comprehensive fine-tuning of the entire production process.
As part of the modernization of production facilities, the enterprise is planning further investments in quality control equipment. Khartsyzsk Pipe plans to purchase two more units for qualifying longitudinal welds and magnetic particle inspection (MPI).
"The high quality and low cost of our products are key competitive edges for our enterprise," said Pavel Uzbek, general director of Khartsyzsk Pipe. "The right strategy - investments in development and modernizing operations - will help Khartsyzsk Pipe to maintain its leading position on the market. This is the only way to successfully compete in the external markets."
For editors:

Khartsyzsk Pipe Plant is the largest pipe producer in Ukraine and one of the largest pipe producers in Europe. The company produces large diameter longitudinal submerged arc welded (LSAW) pipes from 508 mm to 1,422 mm with external corrosion-resistant and internal corrosion-resistant coating or flow coat for main oil and gas pipelines. The capacity of the plant is 1.3 million tons of pipes per year, including about 700,000 tons of coated pipes. Khartsyzsk Pipe has an integrated management system based on standards ISO 9001, ISO 14001, OHSAS 18001, API Spec Q1, DSTU ISO 9001, GOST Р ISO 9001, and STO Gazprom 9001. The plant's products have been certified by the American Petroleum Institute (U.S.), Zetom Research and Certification Institute (Poland) and UkrSepro (Ukraine). Welding operations are certified for compliance with ISO 3834-2. The plant was Metinvest's first Ukrainian enterprise to launch a lean enterprise program.

Azovstal Iron and Steel Works is an up-to-date high-technology enterprise which produces a wide range of steel products such as: slabs, sections and shapes, rails, rail fastenings, square billets, heavy plates, and smelter slag products. Production capacity of the enterprise is over 5,5 million tons of pig iron, over 6,2 million tons of steel, over 4,4 million tons of rolled products.

Metinvest Group is a vertically integrated group of steel and mining companies that manages every link of the value chain, from mining and processing iron ore and coal to making and selling semi-finished and finished steel products. It has steel and mining production facilities in Ukraine, Europe and the US, as well as a sales network covering all key global markets. Its strategic vision to become the leading vertically integrated steel producer in Europe, delivering sustainable growth and profitability resilient to business cycles and providing investors with returns above industry benchmarks. The Group reported revenue of USD 12.8 billion and an EBITDA margin of 18% in 2013. The major shareholders of Metinvest B.V. (the holding company for Metinvest Group) are SCM Group (71.25%) and Smart-Holding (23.75%), which partner in the Group's management. Metinvest Holding, LLC is the management company of Metinvest Group.