19 March 2014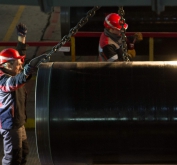 Metinvest Group received permission to supply large diameter pipes fabricated from internally produced pipe-making plate for oil and gas pipelines in Iraq.
The Oil Ministry of Iraq included Metinvest Group into its list of certified suppliers of large diameter pipes manufactured from internally produced pipe-making plate. The move followed Azovstal Iron and Steel Works and Khartsyzsk Pipe Plant passing the final qualification stage, a technical audit by Iraqi's state-owned South Oil Company.
Now that Azovstal is an Iraqi certified supplier of pipe-making plate, Metinvest Group can participate in Iraqi state projects to build oil and gas pipelines and supply pipes fabricated from internally produced pipe-making plate. The Company can also sell flats to other pipe mills that wish to supply products to Iraq.
Until recently, Iraq only used pipes made from pipe-making plate produced in Western Europe, Japan and the U.S.A.
Dmitriy Nikolaenko, Sales Director of Metinvest Holding, LLC:
"The completion of the qualification process provides grounds for long-term partnership with consumers of large diameter pipes in Iraq, one of the largest and most prospective markets in the Middle East. This also proves that Khartsyzsk Pipe and Azovstal's products are highly competitive and that we are ready to develop and expand our supply geography. Strengthening cooperation in Iraq is one of the strategic goals of Metinvest's pipe business and we are pursuing the goal step by step."
For editors:

Khartsyzsk Pipe Plant is the largest pipe producer in Ukraine and one of the largest pipe producers in Europe. The company produces large diameter longitudinal submerged arc welded (LSAW) pipes from 508 mm to 1,422 mm with external corrosion-resistant and internal corrosion-resistant coating or flow coat for main oil and gas pipelines. The capacity of the plant is 1.3 million tons of pipes per year, including about 700,000 tons of coated pipes. Khartsyzsk Pipe has an integrated management system based on standards ISO 9001, ISO 14001, OHSAS 18001, API Spec Q1, DSTU ISO 9001, GOST Р ISO 9001, and STO Gazprom 9001. The plant's products have been certified by the American Petroleum Institute (U.S.), Zetom Research and Certification Institute (Poland) and UkrSepro (Ukraine). Welding operations are certified for compliance with ISO 3834-2. The plant was Metinvest's first Ukrainian enterprise to launch a lean enterprise program.

Azovstal Iron and Steel Works is an up-to-date high-technology enterprise which produces a wide range of steel products such as: slabs, sections and shapes, rails, rail fastenings, square billets, heavy plates, and smelter slag products. Production capacity of the enterprise is over 5,5 million tons of pig iron, over 6,2 million tons of steel, over 4,4 million tons of rolled products.

Metinvest Group is a vertically integrated group of steel and mining companies that manages every link of the value chain, from mining and processing iron ore and coal to making and selling semi-finished and finished steel products. It has steel and mining production facilities in Ukraine, Europe and the US, as well as a sales network covering all key global markets. Its strategic vision to become the leading vertically integrated steel producer in Europe, delivering sustainable growth and profitability resilient to business cycles and providing investors with returns above industry benchmarks. The Group reported revenue of USD 12.8 billion and an EBITDA margin of 18% in 2013. The major shareholders of Metinvest B.V. (the holding company for Metinvest Group) are SCM Group (71.25%) and Smart-Holding (23.75%), which partner in the Group's management. Metinvest Holding, LLC is the management company of Metinvest Group.