25 February 2014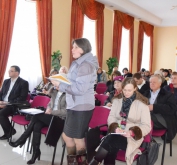 Seminar on learning the basics of the project management for all those wishing to take part in contest of Metinvest Group "We Improve Our City" has been held in Khartsyzk.
KHARTSYZK PIPE PLANT became the initiator of its holding. At the seminar, the partici-pants have been told about the rules and innovations of the contest, learned how to make project proposals. Authors of the most original and useful suggestions for the town will receive from Metinvest up to UAH 100 ths.

More than 35 activists, heads of organizations and initiative groups of the town came to the seminar "Project management Basics" which was held on February 21 at the Town Palace of Culture. Participants of the training practiced skills how to determine the goals and objectives of the social project, formulate problems, develop activities and budget of the project.

"Contest "We Improve Our City" is a good opportunity for citizens to be active and implement their ideas. We have interesting plans but they need to be drawn up correctly. At the seminar there was a lot of useful information that would help to prepare a project of better quality and perhaps to win", the seminar participant Inna Zarubina, employee of Khartsyzsk town library, no-ticed.

The main purpose of the training is to teach students to move from idea to its immediate imple-mentation. The more literate the project will be written, the higher its chances of winning are. Past experience shows that if we have a good idea and information and are not afraid of difficulties, we'll certainly attain success", manager of KHARTSYZSK PIPE Regional Development Sergey Simonov summed up the seminar.

Let us recall that in 2014 Metinvest increases fund of the contest "City improved by our hands" up to UAH 500 ths. And the amount that can be allocated for the project is doubled and will be equal to UAH 100 ths.
Projects on the land improvement, development of the business environment and creation of new jobs are priorities of the Contest 2014. Also, the initiatives dedicated to the promotion of sports, healthy lifestyle and support of the socially vulnerable groups of population are welcome.
Applications for participation in the contest are accepted until March 15. Projects may be submitted by public organizations, municipal governments and their departments, public utility services and citizens.
For editors:

PUBLIC JOINT STOCK COMPANY "KHARTSYZSK PIPE PLANT" is the largest company in Ukraine and one of the largest enterprises in Europe for pipes manufacture. The company manufactures longitudinal SAW large diameter pipes (508-1422 mm in diameter) with external anticorrosion and internal anticorrosion or flow coating for main oil and gas pipelines. Plant's facilities permit to manufacture more than 1.3 mln. tons of pipes per year, including 700 thous. tons of coated pipes.

The integrated Management System ensuring stable high quality of the products to the customers is functioning at "KHARTSYZSK PIPE PLANT". ISO 9001, ISO 14001, OHSAS 18001, API Spec Q1, DSTU ISO 9001, GOST R ISO 9001, STO Gazprom 9001 create its foundation. Products of the plant are certified according to API, EN standards and in the national system UkrSEPRO. Welding processes are certified as per ISO 3834-2.

More than 630 thous. tons of large diameter pipes were produced at "KHARTSYZSK PIPE PLANT" in 2011 that became the record over the last 20 years.

In September, 2010 "KHARTSYZSK PIPE PLANT" became the first company among Ukrainian enterprises of Metinvest Group which started to implement "Lean enterprise" program and obtained significant results.

The top-priority goals in the social policy of "KHARTSYZSK PIPE PLANT" as a mainstay of the entire town are implementation of social programs and activities in education, health service and improvement of town infrastructure. In 2011 the volume of social investment of the company was more than UAH 1.3 mln.

"KHARTSYZSK PIPE PLANT" is a part of Metallurgical Division of Metinvest Group.

METINVEST GROUP is a vertically integrated steel and mining group of companies, managing every link of the value chain, from mining and processing iron ore and coal to making and selling semi-finished and finished steel products. The Group comprises steel and mining production facilities located in Ukraine, Europe and the USA and has a sales network covering all key global markets. Metinvest Group is structured into two operating divisions: Metallurgical and Mining Divisions and has a strategic vision to become the leading vertically integrated steel producer and to deliver sustainable growth and profitability resilient to business cycles, providing investors with returns at above the industry benchmarks. For the 12 months ended 31 December 2012, the Group reported revenues of US$12.6 billion and an EBITDA margin of 16%.

The major shareholders of METINVEST B.V. (a holding company of Metinvest Group) are SCM Group (71.25%) and Smart-Holding (23.75%), partnering in the Company's management.

METINVEST HOLDING, LLC is the managing company of Metinvest Group.