18 February 2014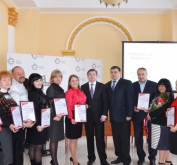 The "We Improve the City" competition began to receive applications social projects in Khartsyzsk. The best initiatives of public organizations, municipal offices and local residents will receive financial support from Khartsyzsk Pipe Plant and Metinvest Group.
"We Improve the City" was presented on Friday in the city's Palace of Culture to over 150 people who want to make life in Khartsyzsk better and more comfortable. All participants were welcomed by Khartsyzsk Pipe General Director Pavel Uzbek and Mayor Valeriy Dubovoy.
This is the third year for the competition and it has become a tradition in Khartsyzsk. Public organizations and initiative groups in the city filed 35 applications in 2013. Ten winning projects received over UAH 350,000 in financial support from Khartsyzsk Pipe and Metinvest.
"I want to thank all participants of the competition. By your example, you have shown that a good idea can become a reality. We are looking forward to new interesting and creative projects from you that will be beneficial for the city. Khartsyzsk Pipe and Metinvest will be happy to support the best from you. I am sure that together we will make life in Khartsyzsk more comfortable!" said Uzbek.
According to the initiators of "We Improve the City" projects, the competition is a good opportunity for city residents to be active and to bring their ideas to life.
"Victory in the competition and the support of Metinvest Group's Khartsyzsk Pipe brought a unique haloroom (salt room) into existence. It is a therapy room where city residents can receive a comprehensive therapy for respiratory diseases for free. According to our preliminary estimates, this room can help reduce the asthma and allergy rate by 10-15%," said NAME?, chief doctor of the Primary Health Care Center.
Last year, the "We Improve the City" competition helped implement other important projects. The first Adaptation Center for Children with Developmental Needs (Down syndrome and autism) was opened in the city. The following activities were supported by Metinvest in the remote Energetic residential area: a modern playground, Rainbow, was built for children; the façade of the Cinderella daycare was painted with bright colours, a sports playground and football field were equipped for students of a specialty school of Khartsyzsk, new boards were installed in the History Museum of Khartsyzsk, a stage with an auditorium and dressing room at the Debut theatre studio were repaired. The general director of Khartsyzsk Pipe and city mayor of Khartsyzsk rewarded project team members with recognition certificates for their personal involvement and contribution to the city's development.
"'We Improve the City' is essential and the right thing to do. I am happy for our city and want to thank Metinvest and Khartsyzsk Pipe, which is not only the city's main employer, but also a socially minded enterprise. I wish success to everyone who wants to participate in the competition this year. Your victory will be a victory for the residents of Khartsyzsk," said Dubovoy.
With Metinvest's help, the people of Khartsyzsk will be able to deliver even more projects in 2014.
The grant fund for "We Improve the City" grew to UAH 500,000. And the potential funds that can be allocated to each project was doubled to UAH 100,000.
Priority areas for the competition in 2014 include land improvement, business environment development and the establishment of new workplaces. Initiatives that promote sports and healthy lifestyles or support socially unprotected people are also welcomed.
Applicants can include public organizations, the Khartsyzsk City Council and its subdivisions, utility institutions or city residents. People from Khartsyzsk who care about their city can get professional consultations from Khartsyzsk Pipe and receive training on the basics of project management.
For editors:

Khartsyzsk Pipe Plant is the largest pipe producer in Ukraine and one of the largest pipe producers in Europe. The company produces large diameter longitudinal submerged arc welded (LSAW) pipes from 508 mm to 1,422 mm with external corrosion-resistant and internal corrosion-resistant coating or flow coat for main oil and gas pipelines. The capacity of the plant is 1.3 million tons of pipes per year, including about 700,000 tons of coated pipes. Khartsyzsk Pipe has an integrated management system based on standards ISO 9001, ISO 14001, OHSAS 18001, API Spec Q1, DSTU ISO 9001, GOST Р ISO 9001, and STO Gazprom 9001. The plant's products have been certified by the American Petroleum Institute (U.S.), Zetom Research and Certification Institute (Poland) and UkrSepro (Ukraine). Welding operations are certified for compliance with ISO 3834-2. The plant was Metinvest's first Ukrainian enterprise to launch a lean enterprise program.

Metinvest Group is a vertically integrated group of steel and mining companies that manages every link of the value chain, from mining and processing iron ore and coal to making and selling semi-finished and finished steel products. It has steel and mining production facilities in Ukraine, Europe and the US, as well as a sales network covering all key global markets. Its strategic vision to become the leading vertically integrated steel producer in Europe, delivering sustainable growth and profitability resilient to business cycles and providing investors with returns above industry benchmarks. The Group reported revenue of USD 3.1 billion and an EBITDA margin of 15% in the first quarter of 2013. The major shareholders of Metinvest B.V. (the holding company for Metinvest Group) are SCM Group (71.25%) and Smart-Holding (23.75%), which partner in the Group's management. Metinvest Holding, LLC is the management company of Metinvest Group.