18 February 2014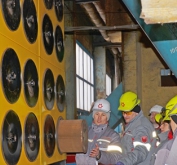 A meeting of ecology department managers from Metinvest Group's enterprises chaired by Vladislav Belous, head of the environment department, took place on 7 February at Khartsyzsk Pipe Plant. At the meeting, the participants discussed environmental issues and risks, investment projects in 2014 and how to deliver environmental actions when financing is short.
Every year, the enterprises of Metinvest Group develop and implement environmental programs to reduce their footprints. Aside from traditional environmental actions, new practices are introduced to eliminate pollution and recover used resources for further utilization.
Khartsyzsk Pipe is continuously working on mitigating environmental risks. The enterprise upgrades its treatment facilities and stopped flux and foundry production, which were the sources of hazardous atmospheric emissions. All this helped take emissions of Khartsyzsk Pipe to almost zero. This is why it was decided to host the meeting at Khartsyzsk Pipe.
During a visit to Pipe Electric Welding Shop #2, the visitors had a chance to learn about the use of cassette filters, which reduced the concentration of fine particles released into the air after treatment by more than 50 times and the content of pollutants from 0.9 tons to 0.6 tons per thousand tons of product.
Meeting participants also visited an auxiliary Mechanical Equipment Repair Shop where they saw the results of the implementation of the "Lean Enterprise" program. The visitors were surprised by the sanitary conditions and visual aids in the shop. During the tour, the visitors were shown how waste disposal was organized in the shop.
"Khartsyzsk Pipe sets a good example of how environmental initiatives should be organized," said Belous, head of the Environmental Department of Metinvest Group. "Many may think Khartsyzsk Pipe is a small mill that is easy to keep in order. Yet, a lot of work has been done to keep the work culture at a high level at our enterprise. It is easy to achieve results when a package of investments is in your pocket, whereas most of these things were done by employees with no financing involved as opposed to the Group's other enterprises. What you do yourself is always more valuable."
"Our goal is to comply with environmentally friendly practices as much as we can," said Pavel Uzbek, general director of Khartsyzsk Pipe. "The plant is continuously working on mitigating environmental risks. Since 2004, in seven years, our operations have been upgraded considerably, the gas-based reheating furnaces were replaced with induction furnaces and plasma cutting machines were equipped with high performance filters. These measures helped reduce air emissions by 2013 by more than two times compared to 2006."
For editors:

Khartsyzsk Pipe Plant is the largest pipe producer in Ukraine and one of the largest pipe producers in Europe. The company produces large diameter longitudinal submerged arc welded (LSAW) pipes from 508 mm to 1,422 mm with external corrosion-resistant and internal corrosion-resistant coating or flow coat for main oil and gas pipelines. The capacity of the plant is 1.3 million tons of pipes per year, including about 700,000 tons of coated pipes. Khartsyzsk Pipe has an integrated management system based on standards ISO 9001, ISO 14001, OHSAS 18001, API Spec Q1, DSTU ISO 9001, GOST Р ISO 9001, and STO Gazprom 9001. The plant's products have been certified by the American Petroleum Institute (U.S.), Zetom Research and Certification Institute (Poland) and UkrSepro (Ukraine). Welding operations are certified for compliance with ISO 3834-2. The plant was Metinvest's first Ukrainian enterprise to launch a lean enterprise program.

Metinvest Group is a vertically integrated group of steel and mining companies that manages every link of the value chain, from mining and processing iron ore and coal to making and selling semi-finished and finished steel products. It has steel and mining production facilities in Ukraine, Europe and the US, as well as a sales network covering all key global markets. Its strategic vision to become the leading vertically integrated steel producer in Europe, delivering sustainable growth and profitability resilient to business cycles and providing investors with returns above industry benchmarks. The Group reported revenue of USD 3.1 billion and an EBITDA margin of 15% in the first quarter of 2013. The major shareholders of Metinvest B.V. (the holding company for Metinvest Group) are SCM Group (71.25%) and Smart-Holding (23.75%), which partner in the Group's management. Metinvest Holding, LLC is the management company of Metinvest Group.