6 February 2014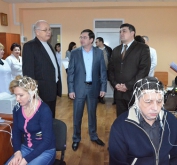 Metinvest Group's Khartsyzsk Pipe equipped the office of functional diagnostics in the cardiology department of Khartsyzsk's Central Municipal Hospital. The project was part of the social partnership program between the city and the enterprise. The investments of Khartsyzsk Pipe totalled about UAH 300,000.
Thanks to Khartsyzsk Pipe's assistance, the medical institution was supplied with new diagnostic equipment: defibrillators, electrocardiograph machines, a Holter monitoring system and spirographic unit. The modern equipment will help Khartsyzsk medical workers to examine the functions of external respiration, study the potential and functioning of blood filling up the brain, and test exercise tolerance.
Khartsyzsk Pipe workers made a major overhaul of the new office, all the communication lines were replaced, metal-plastic windows were installed and new furniture was purchased. According to Khartsyzsk doctors, the cardiology department is visited every month by about 1,860 patients and most of them require complete periodic examinations.
"New equipment is unique. It will help us with correctly diagnosing and then treating cardiology and neurology patients," said Larisa Kostyanaya, head of the functional diagnostics office. "Now there is no need to send our patients to Donetsk – we can make an examinations right here. Thank you for this office, it is a great pleasure to work in it!"
The modern cardiac stress test office is already functioning and hosting patients. Pavel Uzbek, Khartsyzsk Pipe's general director, believes that the purchase of the new equipment for the hospital is a significant step in improving medical care for residents.
"Statistically, cardiac disease is one of the leading ones all over the world. The most effective treatment method is preventive care and timely medical examination. The use of modern diagnostic technology will help the doctors prevent heart problems, improve the health of Khartsyzsk citizens and save their lives," said Pavel Uzbek.
For editors:

Khartsyzsk Pipe Plant is the largest pipe producer in Ukraine and one of the largest pipe producers in Europe. The company produces large diameter longitudinal submerged arc welded (LSAW) pipes from 508 mm to 1,422 mm with external corrosion-resistant and internal corrosion-resistant coating or flow coat for main oil and gas pipelines. The capacity of the plant is 1.3 million tons of pipes per year, including about 700,000 tons of coated pipes. Khartsyzsk Pipe has an integrated management system based on standards ISO 9001, ISO 14001, OHSAS 18001, API Spec Q1, DSTU ISO 9001, GOST Р ISO 9001, and STO Gazprom 9001. The plant's products have been certified by the American Petroleum Institute (U.S.), Zetom Research and Certification Institute (Poland) and UkrSepro (Ukraine). Welding operations are certified for compliance with ISO 3834-2. The plant was Metinvest's first Ukrainian enterprise to launch a lean enterprise program.

Metinvest Group is a vertically integrated group of steel and mining companies that manages every link of the value chain, from mining and processing iron ore and coal to making and selling semi-finished and finished steel products. It has steel and mining production facilities in Ukraine, Europe and the US, as well as a sales network covering all key global markets. Its strategic vision to become the leading vertically integrated steel producer in Europe, delivering sustainable growth and profitability resilient to business cycles and providing investors with returns above industry benchmarks. The Group reported revenue of USD 3.1 billion and an EBITDA margin of 15% in the first quarter of 2013. The major shareholders of Metinvest B.V. (the holding company for Metinvest Group) are SCM Group (71.25%) and Smart-Holding (23.75%), which partner in the Group's management. Metinvest Holding, LLC is the management company of Metinvest Group.