20 January 2014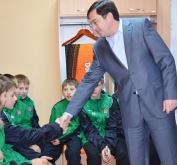 Metinvest Group's Khartsyzsk Pipe financed repairs to the amenities at the city's stadium. The work was performed as part of the social partnership agreement between the city and the enterprise.
Thanks to the pipe makers, major overhauls were made to the changing rooms and showers in the administration complex of the stadium. Communication lines and floors were completely replaced, electric heating and new bathroom fixtures were installed, and new lockers and mirrors were purchased. The investments totalled UAH 250,000.
"There were not no favorable conditions for young athletes here: in recent years there were problems with electricity and water supply, the temperature did not comply with sanitary regulations, and the restrooms did not work," said Vladimir Tumanovskiy, head coach of the Children and Youth Football School at Khartsyzsk Pipe. "It became much warmer and convenient after the repairs. Every day more than 30 children use the facility. Now, trainings will be more comfortable for them."
There had not been a major overhaul to the amenities since the stadium was opened 40 years ago. That is why Khartsyzsk Pipe decided to renovate several rooms at the same time: changing room, restrooms, showers and rooms for coaches and guards.
"Khartsyzsk Pipe does a lot to develop children's sports," said Pavel Uzbek, general director of Khartsyzsk Pipe. "We support the students of the enterprise's football school: we provide them with equipment and sports clothes, and finance their trips to football championships. Now the changing rooms and the showers at the stadium have been renovated. I am sure that our children will keep making us happy with their victories.
For editors:

Khartsyzsk Pipe Plant is the largest pipe producer in Ukraine and one of the largest pipe producers in Europe. The company produces large diameter longitudinal submerged arc welded (LSAW) pipes from 508 mm to 1,422 mm with external corrosion-resistant and internal corrosion-resistant coating or flow coat for main oil and gas pipelines. The capacity of the plant is 1.3 million tons of pipes per year, including about 700,000 tons of coated pipes. Khartsyzsk Pipe has an integrated management system based on standards ISO 9001, ISO 14001, OHSAS 18001, API Spec Q1, DSTU ISO 9001, GOST Р ISO 9001, and STO Gazprom 9001. The plant's products have been certified by the American Petroleum Institute (U.S.), Zetom Research and Certification Institute (Poland) and UkrSepro (Ukraine). Welding operations are certified for compliance with ISO 3834-2. The plant was Metinvest's first Ukrainian enterprise to launch a lean enterprise program.

Metinvest Group is a vertically integrated group of steel and mining companies that manages every link of the value chain, from mining and processing iron ore and coal to making and selling semi-finished and finished steel products. It has steel and mining production facilities in Ukraine, Europe and the US, as well as a sales network covering all key global markets. Its strategic vision to become the leading vertically integrated steel producer in Europe, delivering sustainable growth and profitability resilient to business cycles and providing investors with returns above industry benchmarks. The Group reported revenue of USD 3.1 billion and an EBITDA margin of 15% in the first quarter of 2013. The major shareholders of Metinvest B.V. (the holding company for Metinvest Group) are SCM Group (71.25%) and Smart-Holding (23.75%), which partner in the Group's management. Metinvest Holding, LLC is the management company of Metinvest Group.