18 December 2013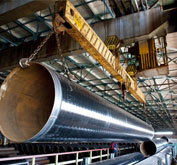 Russian Register Certification Association recommended Khartsyzsk Pipe of Metinvest Group receive certification under the new standard STO Gazprom 9001-2012. This certification is one of the main criteria to supply products to Gazprom.
The official version of new standard STO Gazprom 9001-2012 was published on the website of Gazprom Komplekt, LLC early this year. It expands the scope of the application of legal and other mandatory requirements by additionally covering products, processes, types of activities and infrastructure. According to the results of an audit, representatives of the Russian Register Certification Association confirmed that Khartsyzsk Pipe's quality management system met the new version of STO Gazprom 9001-2012, and its processes corresponded to the established requirements for all types of products and services.
"The outcomes of the independent audit confirmed that Khartsyzsk Pipe is a customer-focused company that is capable of creating conditions for pipe making that meet any client's requirements," said Khartsyzsk Pipe General Director Pavel Uzbek. "This Certificate is a serious step that strengthens the position of Khartsyzsk Pipe in the world market of large diameter pipes."
The quality of Khartsyzsk Pipe's products has numerous times been confirmed by such reputable organizations as TUV NORD Ukraine, the American Petroleum Institute (API); SAI GLOBAL, Inc (Canada); Zetom Research and Certification Institute (Poland), Vniti-Test (Ukraine), Russian Register Certification Association (Saint Petersburg), etc.
For editors:

Khartsyzsk Pipe Plant is the largest pipe producer in Ukraine and one of the largest pipe producers in Europe. The company produces large diameter longitudinal submerged arc welded (LSAW) pipes from 508 mm to 1,422 mm with external corrosion-resistant and internal corrosion-resistant coating or flow coat for main oil and gas pipelines. The capacity of the plant is 1.3 million tons of pipes per year, including about 700,000 tons of coated pipes. Khartsyzsk Pipe has an integrated management system based on standards ISO 9001, ISO 14001, OHSAS 18001, API Spec Q1, DSTU ISO 9001, GOST Р ISO 9001, and STO Gazprom 9001. The plant's products have been certified by the American Petroleum Institute (U.S.), Zetom Research and Certification Institute (Poland) and UkrSepro (Ukraine). Welding operations are certified for compliance with ISO 3834-2. The plant was Metinvest's first Ukrainian enterprise to launch a lean enterprise program.

Metinvest Group is a vertically integrated group of steel and mining companies that manages every link of the value chain, from mining and processing iron ore and coal to making and selling semi-finished and finished steel products. It has steel and mining production facilities in Ukraine, Europe and the US, as well as a sales network covering all key global markets. Its strategic vision to become the leading vertically integrated steel producer in Europe, delivering sustainable growth and profitability resilient to business cycles and providing investors with returns above industry benchmarks. The Group reported revenue of USD 3.1 billion and an EBITDA margin of 15% in the first quarter of 2013. The major shareholders of Metinvest B.V. (the holding company for Metinvest Group) are SCM Group (71.25%) and Smart-Holding (23.75%), which partner in the Group's management. Metinvest Holding, LLC is the management company of Metinvest Group.