5 December 2013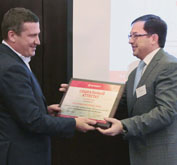 Khartsyzsk Pipe Works was recognised the best among Metinvest Group's enterprises for its 2013 Workers' Amenities program. The plant's appraisal followed two comprehensive audits this year in April and September
The audits provided opportunities to assess changes and define priorities for future improvement in terms of employees' working conditions and amenities. The other contenders were Northern GOK, Azovstal and Ingulets GOK.
Khartsyzsk Pipe placed special emphasis on organizing adequate amenities for its workers. Sixteen lavatories in six subdivisions of the enterprise were remodelled, repairs to the bathrooms in the main laboratory and in the canteen of Pipe Welding Shop #4 was completed as part of Workers' Amenities program in 2013. Currently, repairs are underway in eight sanitary rooms. The remodelling of the bathrooms and canteens in the Mechanic Engineering Shop and Railway Shop are scheduled for next year.
"It's good that Khartsyzsk Pipe is again on a list of leaders. This time it is among the leaders in improving workers' amenities," said Pavel Uzbek, general director of Khartsyzsk Pipe. "People are the main capital and key resource of development for Khartsyzsk Pipe. It's important that workers enjoy going to work. Therefore, our goal is not only to make their workplaces safe, but to create comfortable amenities for them."
The program to improve workers' amenities has been implemented at all enterprises of Metinvest Group since 2012. The company is upgrading administrative facilities and amenities, bathrooms, canteens, toilets and shower rooms step by step. Over 1,000 amenities facilities have been repaired at the enterprises of Metinvest Group over the last two years as part of Workers' Amenities program. The company invested over UAH 3 million this year to improve the labor conditions of Khartsyzsk Pipe employees.
The leaders were recognized at an extended Executive Committee meeting of Metinvest Group in Donetsk. Certificates for best performance in organizing and improving workers' amenities were given to the enterprise's directors by Metinvest Group CEO Igor Syry and HR and Social Policy Director Nataliya Strelkova.
For editors:

Khartsyzsk Pipe Plant is the largest pipe producer in Ukraine and one of the largest pipe producers in Europe. The company produces large diameter longitudinal submerged arc welded (LSAW) pipes from 508 mm to 1,422 mm with external corrosion-resistant and internal corrosion-resistant coating or flow coat for main oil and gas pipelines. The capacity of the plant is 1.3 million tons of pipes per year, of which about 700 thousand tons are coated.

Khartsyzsk Pipe Plant has integrated management system to guarantee stable high quality to the customer. It is based on the standards ISO 9001, ISO 14001, OHSAS 18001, API Spec Q1, DSTU ISO 9001, GOST Р ISO 9001, STO Gazprom 9001. The products of the plans have certifications from API, EN and national UkrSEPRO. Welding operations are certified ISO 3834-2.
KhTW produced over 630 thousand tons of large diameter pipes in 2011, which is record high over the last 20 years.
Khartsyzsk Pipe was the first Ukrainian enterprise of Metinvest Group to launch the Lean Enterprise programme and achieve significant results.

The priority social policy areas of KhTW as city-forming enterprise include: social programs, educational activities and municipal infrastructure improvement. The social investments of the enterprise amounted to over UAH 1.3 million in 2011.
KhTW is an enterprise of Metallurgical Division of Metinvest Group.

METINVEST is a vertically integrated steel and mining group of companies, managing every link of the value chain, from mining and processing iron ore and coal to making and selling semi-finished and finished steel products. The Group comprises steel and mining production facilities located in Ukraine, Europe and the USA, and has a sales network covering all key global markets. Metinvest Group is structured into Metallurgical and Mining Divisions. has a strategic vision to become the leading vertically integrated steel producer in Europe, delivering sustainable growth and profitability resilient to business cycles and providing investors with returns at above the industry benchmarks. The Group generated US$12.6 billion of revenues and a 16% EBITDA margin for the 12 months of 2012.

Major shareholders of METINVEST B.V. (a holding company) are SCM Group (71.25%) and Smart-Holding (23.75%), partnering in Company's management.

METINVEST HOLDING, LLC is the management company of Metinvest Group.