4 December 2013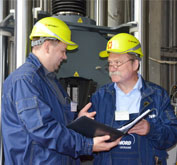 TUV Nord Ukraine certified Khartsyzsk Pipe's products for compliance with EC 305/2011/EU. This certificate confirms compliance with European safety standards and entitles the plant to apply the CE marking to its large diameter pipes and supply them to the EU.
During the audit, TUV Nord Ukraine's experts visited the plant's core shops to view the entire pipe manufacturing process, went to the plate and finished product warehouse, and participated in the testing of pipes and chemical properties of metals. The auditors spoke highly of the plant's large diameter pipe production capabilities and the professionalism of its employees and made a note of the well-coordinated work of the plant's technical and production departments, and its prompt provision of information and its quality. Preliminary findings of certification tests showed that Khartsyzsk Pipe's products met the specified requirements.
"The СЕ mark is the only marking in the European Union to indicate the compliance of products with European safety standards," said Pavel Uzbek, Khartsyzsk Pipe's general director. "Having been granted the right to apply this marking, Khartsyzsk Pipe confirmed once again the high quality of its pipes and got new opportunities to develop sales in the European Union. Furthermore, we strengthened our position in Europe."
Aside from certification body TUV Nord Ukraine, the quality of Khartsyzsk Pipe's products has been confirmed by other reputable organizations, such as the American Petroleum Institute (API), SAI Global, Inc (Canada), Zetom Research and Certification Institute (Poland), Vniti-Test (Ukraine), Russian Register (Saint Petersburg), etc.
For editors:

Khartsyzsk Pipe Plant is the largest pipe producer in Ukraine and one of the largest pipe producers in Europe. The company produces large diameter longitudinal submerged arc welded (LSAW) pipes from 508 mm to 1,422 mm with external corrosion-resistant and internal corrosion-resistant coating or flow coat for main oil and gas pipelines. The capacity of the plant is 1.3 million tons of pipes per year, of which about 700 thousand tons are coated.

Khartsyzsk Pipe Plant has integrated management system to guarantee stable high quality to the customer. It is based on the standards ISO 9001, ISO 14001, OHSAS 18001, API Spec Q1, DSTU ISO 9001, GOST Р ISO 9001, STO Gazprom 9001. The products of the plans have certifications from API, EN and national UkrSEPRO. Welding operations are certified ISO 3834-2.
KhTW produced over 630 thousand tons of large diameter pipes in 2011, which is record high over the last 20 years.
Khartsyzsk Pipe was the first Ukrainian enterprise of Metinvest Group to launch the Lean Enterprise programme and achieve significant results.

The priority social policy areas of KhTW as city-forming enterprise include: social programs, educational activities and municipal infrastructure improvement. The social investments of the enterprise amounted to over UAH 1.3 million in 2011.
KhTW is an enterprise of Metallurgical Division of Metinvest Group.

METINVEST is a vertically integrated steel and mining group of companies, managing every link of the value chain, from mining and processing iron ore and coal to making and selling semi-finished and finished steel products. The Group comprises steel and mining production facilities located in Ukraine, Europe and the USA, and has a sales network covering all key global markets. Metinvest Group is structured into Metallurgical and Mining Divisions. has a strategic vision to become the leading vertically integrated steel producer in Europe, delivering sustainable growth and profitability resilient to business cycles and providing investors with returns at above the industry benchmarks. The Group generated US$12.6 billion of revenues and a 16% EBITDA margin for the 12 months of 2012.

Major shareholders of METINVEST B.V. (a holding company) are SCM Group (71.25%) and Smart-Holding (23.75%), partnering in Company's management.

METINVEST HOLDING, LLC is the management company of Metinvest Group.