11 November 2013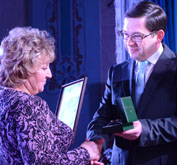 Metinvest Group's Khartsyzsk Pipe Plant turned 115-years-old on November 8.
Khartsyzsk Pipe was the USSR's first large diameter pipe producer and it was the first in the CIS to produce pipes with external and internal anti-corrosive coatings.
Continuous investments to modernization and the implementation of lean enterprise principles helped the plant to survive the crisis and even strengthen its market positions. The plant's products have been recognized internationally for their quality and have been used in more than 30 gas and oil pipelines.
The plant's history includes several generations of steel workers. On the anniversary, pipe workers with long tenures received letters of gratitude from the plant's administration and the enterprise's trade union committee. At an evening celebration, a film was shown about the plant, followed by a performance by popular entertainers.
Before the anniversary, the plant's supervisory board confirmed the appointment of Pavel Uzbek as general director; he was previously acting general director.
Pavel Uzbek, general director of Khartsyzsk Pipe:
"The success of our plant is the achievement of our entire team. Without the talent and experience of our workers and office staff, our experts and managers, the plant could not have achieved such good results. It is only because of our joint effort that Khartsyzsk Pipe Plant is today a sector leader and we can be confident about the future."
For editors:

Khartsyzsk Pipe Plant is the largest pipe producer in Ukraine and one of the largest pipe producers in Europe. The company produces large diameter longitudinal submerged arc welded (LSAW) pipes from 508 mm to 1,422 mm with external corrosion-resistant and internal corrosion-resistant coating or flow coat for main oil and gas pipelines. The capacity of the plant is 1.3 million tons of pipes per year, of which about 700 thousand tons are coated.

Khartsyzsk Pipe Plant has integrated management system to guarantee stable high quality to the customer. It is based on the standards ISO 9001, ISO 14001, OHSAS 18001, API Spec Q1, DSTU ISO 9001, GOST Р ISO 9001, STO Gazprom 9001. The products of the plans have certifications from API, EN and national UkrSEPRO. Welding operations are certified ISO 3834-2.
KhTW produced over 630 thousand tons of large diameter pipes in 2011, which is record high over the last 20 years.
Khartsyzsk Pipe was the first Ukrainian enterprise of Metinvest Group to launch the Lean Enterprise programme and achieve significant results.

The priority social policy areas of KhTW as city-forming enterprise include: social programs, educational activities and municipal infrastructure improvement. The social investments of the enterprise amounted to over UAH 1.3 million in 2011.
KhTW is an enterprise of Metallurgical Division of Metinvest Group.

METINVEST is a vertically integrated steel and mining group of companies, managing every link of the value chain, from mining and processing iron ore and coal to making and selling semi-finished and finished steel products. The Group comprises steel and mining production facilities located in Ukraine, Europe and the USA, and has a sales network covering all key global markets. Metinvest Group is structured into Metallurgical and Mining Divisions. has a strategic vision to become the leading vertically integrated steel producer in Europe, delivering sustainable growth and profitability resilient to business cycles and providing investors with returns at above the industry benchmarks. The Group generated US$12.6 billion of revenues and a 16% EBITDA margin for the 12 months of 2012.

Major shareholders of METINVEST B.V. (a holding company) are SCM Group (71.25%) and Smart-Holding (23.75%), partnering in Company's management.

METINVEST HOLDING, LLC is the management company of Metinvest Group.