8 November 2013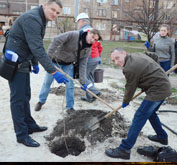 Khartsyzsk Pipe Plant workers' initiative to plant trees was a part of a "Let's Make our City Comfortable!" event that coincided with the 15th anniversary of the plant.
The young maple trees were planted in the Yubileynyi residential area near 50 Chumak Street.
Some area residents also participated in the event with the plant's staff. Valeriy Dubovoy, Khartsyzsk mayor, and Pavel Uzbek, Khartsyzsk Pipe's general director, also took part in the event.
Khartsyzsk Pipe opened a playground for children on Chumak Street this August.
"The city of Khartsyzsk and Khartsyzsk Pipe Plant have been together for 115 years, said Pavel Uzbek," Khartsyzsk Pipe's general director. "The plant has tried to take care of the city over the years. We have created jobs and paid salaries and taxes to the budget and have done all we can for the city to grow and develop. Every day we give part of our soul in this process as we are truly concerned about the destiny of each resident of Khartsyzsk. Today, through this initiative by Khartsyzsk Pipe and Metinvest, we joined with residents to make our hometown clean and comfortable."
The development of social infrastructure is one of priority areas where Metinvest has focused on helping cities where it operates. Khartsyzsk Pipe is working on a number of projects in 2013 aimed at urban redevelopment and the creation of comfortable living conditions for residents. It has constructed new public transport stops and playgrounds. The plant's workers and family members have been regular participants in volunteer environmental initiatives and clean-up events.
For editors:

Khartsyzsk Pipe Plant is the largest pipe producer in Ukraine and one of the largest pipe producers in Europe. The company produces large diameter longitudinal submerged arc welded (LSAW) pipes from 508 mm to 1,422 mm with external corrosion-resistant and internal corrosion-resistant coating or flow coat for main oil and gas pipelines. The capacity of the plant is 1.3 million tons of pipes per year, including about 700,000 tons of coated pipes. Khartsyzsk Pipe has an integrated management system based on standards ISO 9001, ISO 14001, OHSAS 18001, API Spec Q1, DSTU ISO 9001, GOST Р ISO 9001, and STO Gazprom 9001. The plant's products have been certified by the American Petroleum Institute (U.S.), Zetom Research and Certification Institute (Poland) and UkrSepro (Ukraine). Welding operations are certified for compliance with ISO 3834-2. The plant was Metinvest's first Ukrainian enterprise to launch a lean enterprise program.

Metinvest Group is a vertically integrated group of steel and mining companies that manages every link of the value chain, from mining and processing iron ore and coal to making and selling semi-finished and finished steel products. It has steel and mining production facilities in Ukraine, Europe and the US, as well as a sales network covering all key global markets. Its strategic vision to become the leading vertically integrated steel producer in Europe, delivering sustainable growth and profitability resilient to business cycles and providing investors with returns above industry benchmarks.

The Group reported revenue of USD 3.1 billion and an EBITDA margin of 15% in the first quarter of 2013.

The major shareholders of Metinvest B.V. (the holding company for Metinvest Group) are SCM Group (71.25%) and Smart-Holding (23.75%), which partner in the Group's management.

Metinvest Holding, LLC is the management company of Metinvest Group.