31 October 2013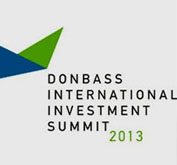 Pavel Uzbek, Khartsyzsk Pipe's acting general director, gave a presentation on his plant's experience with reducing environmental risks and improving energy efficiency at the 6th Annual Donetsk International Investment Summit.


DIIS is the largest Ukrainian business forum on economic development issues and investment prospects. This year's summit was focused on energy efficient and environmentally friendly business in Ukraine.
Summit participants included specialists, top management of the largest enterprises and banks, state leaders from Ukraine and other European countries.
Uzbek's presentation focused on Khartsyzsk Pipe's experience with lean principles; his plant was the first Metinvest Group to implement a continuous improvement system based on lean (eliminating all types of loss) in 2010. The system involves all workers to increase efficiency and make small improvements in the manufacturing process every day.
"The involvement of the plant's workers in preparing energy efficiency proposals is very important for us," said Uzbek. "Their experience and knowledge help to define bottlenecks, study problems in detail, and contribute to the plant's development. "Today continuous improvement systems are a key long-term priority of Metinvest Group. Since we started implementing this system at Khartsyzsk Pipe, electricity consumption in the key manufacturing shop – pipe electric welding shop #2 – has decreased 1.8 times and compressed air consumption in pipe welding whop #4 by 1.4 times. Energy savings is a global issue: the rational use of natural resources and efficient consumption of electricity, gas, and heating have become very important. Saving energy in production is one of the key efficiency factors that forms the basis for the successful operation of the plant."
Khartsyzsk Pipe also continuously reduces its environmental impact. Its production facilities underwent a major refurbishment in 2004-2010: modern equipment pipe manufacturing was installed, gas reheating furnaces were replaced with core induction furnaces, and plasma cutting machines were equipped with high-efficiency filters. The implementation of these measures resulted in a decrease in emissions by 2.2 times from 2006 to 2012.
For editors:

Khartsyzsk Pipe Plant is the largest pipe producer in Ukraine and one of the largest pipe producers in Europe. The company produces large diameter longitudinal submerged arc welded (LSAW) pipes from 508 mm to 1,422 mm with external corrosion-resistant and internal corrosion-resistant coating or flow coat for main oil and gas pipelines. The capacity of the plant is 1.3 million tons of pipes per year, including about 700,000 tons of coated pipes. Khartsyzsk Pipe has an integrated management system based on standards ISO 9001, ISO 14001, OHSAS 18001, API Spec Q1, DSTU ISO 9001, GOST Р ISO 9001, and STO Gazprom 9001. The plant's products have been certified by the American Petroleum Institute (U.S.), Zetom Research and Certification Institute (Poland) and UkrSepro (Ukraine). Welding operations are certified for compliance with ISO 3834-2. The plant was Metinvest's first Ukrainian enterprise to launch a lean enterprise program.

Metinvest Group is a vertically integrated group of steel and mining companies that manages every link of the value chain, from mining and processing iron ore and coal to making and selling semi-finished and finished steel products. It has steel and mining production facilities in Ukraine, Europe and the US, as well as a sales network covering all key global markets. Its strategic vision to become the leading vertically integrated steel producer in Europe, delivering sustainable growth and profitability resilient to business cycles and providing investors with returns above industry benchmarks.

The Group reported revenue of USD 3.1 billion and an EBITDA margin of 15% in the first quarter of 2013.

The major shareholders of Metinvest B.V. (the holding company for Metinvest Group) are SCM Group (71.25%) and Smart-Holding (23.75%), which partner in the Group's management.

Metinvest Holding, LLC is the management company of Metinvest Group.