23 October 2013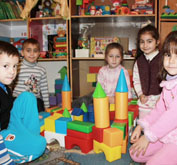 In preschool establishment No 5, "Krasnaya Shapochka" Khartsysk pipe plant of the Metinvest Group has completely replaced the heating system and installed heat meter.
This gift was made in the program "Improving the energy efficiency of pre-school institutions in the city". The investment amounted to 350 thousand hryvnia.
Communal kindergarten No 5, " Krasnaya Shapochka " was considered the coolest of all preschool institutions in the city. The temperature in the bedrooms in the autumn- winter period did not exceed 16C degrees. In some groups, the kids were at a temperature of only 12C degrees. According to current health standards in the bedrooms and playrooms in winter the temperature should not drop below 18C. Therefore repair in "Krasnaya Shapochka" was urgently needed.
- I appreciate the work done by Khartsyzsk pipe plant - stressed the head of the kindergarten Ekaterina Kravchenko. - It is certainly a great gift for us. Heating is done qualitatively, using modern technologies. Now our children feel not only warm and caring teacher, but also the care of good friends - pipe factory workers.
Khartsyzsk pipe plant also completes the improvement of children's play area in the kindergarten. Measures for improvement of pre-school institutions have been implemented within the framework of social partnership between the city and Khartsyzsk Pipe Plant.
- Investments in preschool institutions in the city - one of the main directions of social partnership. We do our best to ensure that children were warm and comfortable and make them feel happy - said Acting CEO Khartsyzsk Pipe Plant Paul Uzbek . - Khartsyzsk Pipe Plant, Metinvest is always ready to support projects aimed to create a comfortable environment for the younger generation.


For editors:

KHARTSYZSK PIPE PLANT is the largest company in Ukraine and one of the largest enterprises in Europe for pipes manufacture. The company manufactures longitudinal SAW large diameter pipes (508-1422 mm in diameter) with external anticorrosion and internal anticorrosion or flow coating for main oil and gas pipelines. Plant's facilities permit to manufacture more than 1.3 mln. tons of pipes per year, including 700 thous. tons of coated pipes.

The integrated Management System ensuring stable high quality of the products to the customers is functioning at KHARTSYZSK PIPE PLANT. ISO 9001, ISO 14001, OHSAS 18001, API Spec Q1, DSTU ISO 9001, GOST R ISO 9001, STO Gazprom 9001 create its foundation. Products of the plant are certified according to API, EN standards and in the national system UkrSEPRO. Welding processes are certified as per ISO 3834-2.

More than 630 thous. tons of large diameter pipes were produced at KHARTSYZSK PIPE PLANT in 2011 that became the record over the last 20 years.

In September, 2010 KHARTSYZSK PIPE PLANT became the first company among Ukrainian enterprises of Metinvest Group which started to implement "Lean enterprise" program and obtained significant results.

The top-priority goals in the social policy of KHARTSYZSK PIPE PLANT as a mainstay of the entire town are implementation of social programs and activities in education, health service and improvement of town infrastructure. In 2011 the volume of social investment of the company was more than UAH 1.3 mln.

KHARTSYZSK PIPE PLANT is a part of Metallurgical Division of Metinvest Group.
METINVEST GROUP is a vertically integrated steel and mining group of companies, managing every link of the value chain, from mining and processing iron ore and coal to making and selling semi-finished and finished steel products. The Group comprises steel and mining production facilities located in Ukraine, Europe and the USA and has a sales network covering all key global markets. Metinvest Group is structured into two operating divisions: Metallurgical and Mining Divisions and has a strategic vision to become the leading vertically integrated steel producer in Europe, and deliver sustainable growth and profitability resilient to business cycles, providing investors with returns above the industry benchmarks. For the 12 months ended 31 December 2012, the Group reported revenues of US$12.6 billion and an EBITDA margin of 16%.
The major shareholders of METINVEST B.V. (the holding company) are SCM Group (71.25%) and Smart-Holding (23.75%), partnering in the Company's management.
METINVEST HOLDING, LLC is the managing company of Metinvest Group.