10 October 2013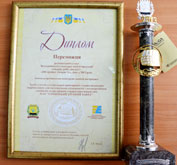 Metinvest Group's Khartsyzsk Pipe won the regional round of the quality competition "100 Best Ukrainian Products." Khartsyzsk Pipe's products were recognized as the best in the category "Industrial and Technical Products."
Khartsyzsk Pipe was nominated for its 1,219 mm steel longitudinally electric-welded pipes for main pipelines with internal and external corrosion resistant coating. The product was highly praised by specialists for its quality, reliability and conformity with standards.
Grigoriy Repin, head of Doneckstandartmetrologiya (Donetsk's Standards and Measures Agency), gave a certificate and statue to Khartsyzsk Pipe Acting General Director Pavel Uzbek.
"This is a credit to all Khartsyzsk Pipe's employees," said Uzbek. "I am sure that with the technology we possess and the professionals we have, we will be able to continue take on responsible challenges and strengthen the reputation of Metinvest Group's Khartsyzsk Pipe as a producer of high quality products."
This year Khartsyzsk Pipe has passed audits by Zetom Research and Certification Institute of Poland, Petrobras (Brazil), and SAI Global (Canada).
According to the plant's quality control department, 99.96% of products met quality standards during the first nine months of 2013.
The All-Ukrainian quality competition "100 Best Ukrainian Products" (goods and services) is held by the State Inspectorate of Ukraine for Consumer Rights Protection, with the support of the President of Ukraine. The competition does not advertise brands, but rates enterprises that produce high quality products, whose workmanship can serve as an example to others. This year, 214 enterprises from Donetsk region submitted 246 food items, and industrial and technical goods for the competition.