18 September 2013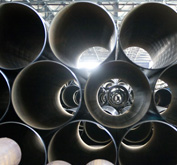 Metinvest Group's Khartsyzsk Pipe Plant received a new product certificate for transit pipes in compliance with an updated Polish standard by Zetom Research and Certification Institute (Poland).
The certificate was awarded following an audit and verifies the compliance of Khartsyzsk Pipe-manufactured welded and seamless transit pipes for the oil & gas industry with the requirements of PN-EN ISO 3183:2013 IDT EN ISO 3183:2012, which replaced PN-EN 10208-2:2011.
"This audit showed that the quality of Khartsyzsk Pipe's products meets European requirements and standards," said Pavel Uzbek, acting general director of Khartsyzsk Pipe. "Quality is a calling card; it's the reputation not only of Khartsyzsk Pipe, but of Metinvest Group as a whole. Thus, we do not have the right to make mistakes. We are known and trusted so we focus on our clients and keep quality targets high."
The certification audit examined welding and expanding processes, non-destructive testing (NDT), and testing of the mechanical and chemical properties of metals and welds.
Khartsyzsk Pipe received its PN-EN 10208-2 certification in 2008, which was the first time the plant's products were certified as compliant with European Union standards and allowed for use within the EU.
Khartsyzsk Pipe has 12 product certificates, a welding certificate, and six management system certificates from accreditation organizations including the American Petroleum Institute (U.S.), QMI SAI Global (Canada); Zetom Research and Certification Institute (Poland), Vniti-Test (Ukraine), and Russian Register (Russia).
For editors:

Khartsyzsk Pipe Plant is the largest pipe producer in Ukraine and one of the largest pipe producers in Europe. The company produces large diameter longitudinal submerged arc welded (LSAW) pipes from 508 mm to 1,422 mm with external corrosion-resistant and internal corrosion-resistant coating or flow coat for main oil and gas pipelines. The capacity of the plant is 1.3 million tons of pipes per year, including about 700,000 tons of coated pipes. Khartsyzsk Pipe has an integrated management system based on standards ISO 9001, ISO 14001, OHSAS 18001, API Spec Q1, DSTU ISO 9001, GOST Р ISO 9001, and STO Gazprom 9001. The plant's products have been certified by the American Petroleum Institute (U.S.), Zetom Research and Certification Institute (Poland) and UkrSepro (Ukraine). Welding operations are certified for compliance with ISO 3834-2. The plant was Metinvest's first Ukrainian enterprise to launch a lean enterprise program.

Metinvest Group is a vertically integrated group of steel and mining companies that manages every link of the value chain, from mining and processing iron ore and coal to making and selling semi-finished and finished steel products. It has steel and mining production facilities in Ukraine, Europe and the US, as well as a sales network covering all key global markets. Its strategic vision to become the leading vertically integrated steel producer in Europe, delivering sustainable growth and profitability resilient to business cycles and providing investors with returns above industry benchmarks. The Group reported revenue of USD 3.1 billion and an EBITDA margin of 15% in the first quarter of 2013. The major shareholders of Metinvest B.V. (the holding company for Metinvest Group) are SCM Group (71.25%) and Smart-Holding (23.75%), which partner in the Group's management. Metinvest Holding, LLC is the management company of Metinvest Group.

For more information, please visit www.metinvestholding.com

Contact:

Viktoria Lyashenko

Acting Corporate Communications Department Head

Press Service of Public Joint Stock Company Khartsyzsk Pipe Plant

+380 (6257) 59879