5 September 2013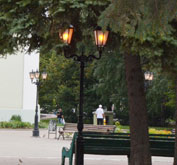 As a part of the program "Luminous Town", works on the reconstruction of the street lighting of five main streets in Khartsyzsk have been fulfilled with the support of KHARTSYZSK PIPE PLANT of Metinvest Group. 412 meters of the electrical cable have been replaced; more than 50 new lighting fixtures have been installed in the course of the works.
KHARTSYSK PIPE PLANT in its best traditions did the symbolic gift for the citizens by the Town Day. In the control room of the public utility "Gorsvet", the ceremony of putting into operation of a new system of the outdoor illumination has been carried out on the fifth of September. Mayor Valery Dubovoy and Pavel Uzbek, Acting Director General of KHARTSYZSK PIPE, took part in the ceremony.
The fact that the streets of Khartsyzsk became more luminous is the direct merit of the plant. After all, new lights appeared in Lenin Square, Manuilsky alley, Shevchenko boulevard, Sechenov and Liberty streets owing to the implementation of the outdoor lighting reconstruction program initiated and financed by the enterprise.
As mayor Valery Dubovoy put, the townwide program "Luminous Town" together with Metinvest and KHARTSYZSK PIPE in particular is being implemented for three consecutive years. Each time the plant allocates money to definite streets. It is also important that as a part of this project lighting fixtures are equipped with energy-saving light bulbs. It solves not only the problem of lighting but also the question of budgetary savings.
To see first-hand the real action of the project, the mayor and the head of the plant went downtown after the ceremonial commissioning of the outdoor lighting system.
"We started this program long ago, and it started with the districts adjacent to the plant. And today we bring it to the main streets of the town. After all, workers of KHARTSYZSK PIPE used to come back home from night shifts along these streets, thousands of our residents go here every day. We believe that thereby we make their life more comfortable and safe. I am sure that within the framework of the fruitful cooperation with the town, we realize many interesting and useful projects that will make life of the town dwellers better", Pavel Uzbek, Acting Director General of KHARTSYZSK PIPE said.
Investments of KHARTSYZSK PIPE PLANT for this project amounted to more than UAH 86 thou.
For editors:

KHARTSYZSK PIPE PLANT is the largest company in Ukraine and one of the largest enterprises in Europe for pipes manufacture. The company manufactures longitudinal SAW large diameter pipes (508-1422 mm in diameter) with external anticorrosion and internal anticorrosion or flow coating for main oil and gas pipelines. Plant's facilities permit to manufacture more than 1.3 mln. tons of pipes per year, including 700 thous. tons of coated pipes.

The integrated Management System ensuring stable high quality of the products to the customers is functioning at Khartsyzsk PIPE PLANT. ISO 9001, ISO 14001, OHSAS 18001, API Spec Q1, DSTU ISO 9001, GOST R ISO 9001, STO Gazprom 9001 create its foundation. Products of the plant are certified according to API, EN standards and in the national system UkrSEPRO. Welding processes are certified as per ISO 3834-2.

More than 630 thous. tons of large diameter pipes were produced at KHARTSYZSK PIPE PLANT in 2011 that became the record over the last 20 years.

In September, 2010 KHARTSYZSK PIPE PLANT became the first company among Ukrainian enterprises of Metinvest Group which started to implement "Lean enterprise" program and obtained significant results.

The top-priority goals in the social policy of KHARTSYZSK PIPE PLANT as a mainstay of the entire town are implementation of social programs and activities in education, health service and improvement of town infrastructure. In 2011 the volume of social investment of the company was more than UAH 1.3 mln.

Khartsyzsk PIPE PLANT is a part of Metallurgical Division of Metinvest Group.

METINVEST GROUP is a vertically integrated steel and mining group of companies, managing every link of the value chain, from mining and processing iron ore and coal to making and selling semi-finished and finished steel products. The Group comprises steel and mining production facilities located in Ukraine, Europe and the USA and has a sales network covering all key global markets. Metinvest Group is structured into two operating divisions: Metallurgical and Mining Divisions and has a strategic vision to become the leading vertically integrated steel producer in Europe, and deliver sustainable growth and profitability resilient to business cycles, providing investors with returns above the industry benchmarks. For the 12 months ended 31 December 2012, the Group reported revenues of US$12.6 billion and an EBITDA margin of 16%.

The major shareholders of METINVEST B.V. (the holding company) are SCM Group (71.25%) and Smart-Holding (23.75%), partnering in the Company's management.

METINVEST HOLDING, LLC is the managing company of Metinvest Group.

For additional information, please, visit http://pipe.metinvestholding.com/en

Contact person:

Victoria Lyashenko
Acting Head of Corporate Communications Department
+380 (6257) 59879
press@ukrpipe.com.ua