12 September 2013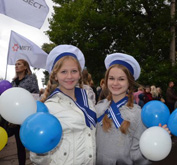 On the eve of 144th anniversary since town Foundation day Khartsyzsk Pipe, Metinvest Group, presented to the citizens a new mobile scene, which will become a perfect support for developing creativity of Khartsyzsk youth.
Traditionally Khartsyzsk Pipe is the general sponsor of celebrations devoted to the Town Day. This year Pipe workers also supported all the citizens' initiatives: the celebration was eventful and involved exhibition of local masters of decorative and applied arts, vocal and dance performance, sport competitions, numerous children and family contests, gala concert and firework. The mobile scene was specially pur-chased for the main Town Day event – concert on the central city square.

- Khartsyzsk is an industrial center with world-known products. It is our duty to build and to develop our town, make it more comfortable for living and children upbringing, - noted Pavel Uzbek, acting Khartsyzsk Pipe General Director. – Therefore Khartsyzsk Pipe continues its efficient operation for the city benefit; our production is provided with profitable orders, the salary is paid out consistently and together with citizens we face the future with confidence.

This year Khartsyzsk Pipe is planning to invest over UAH 4 mln. for the town development programmes. Currently 15 social projects, aimed at healthcare and development of children's creative skills, are being carried out due to initiative of concerned citizens. Two new playgrounds have already been constructed in Khartsyzsk. New Municipal Educational and Training Center, salt therapy room and two recreation parks are to be arranged in the near future. Khartsyzsk Pipe backing made it possible to overhaul Municipal Hospital Surgery Department which will get a new Cardiac Diagnostics Center soon. Last week new computer classrooms were opened in two Educational Establishments of the city. Lighting system at five central streets of the town was revamped and some transit shelters were installed due to close cooperation with Town Authorities.
For editors:

PUBLIC JOINT STOCK COMPANY KHARTSYZSK PIPE is the main Ukrainian and one of the largest CIS producers of single seam large di-ameter longitudinally welded pipes (508 to 1422 mm diameter) with corrosion resistant and anti-friction coating of inner and outer surface used for oil and gas mains. The Work's facilities allow annular pipes production over 1.3 mln. tons, including 700 th. tons of coated pipes.
"KHARTSYZSK PIPE" applies an integrated Quality Management System to ensure consistently high quality of production supplied to any customer. QMS is based on ISO 9001, ISO 14001, OHSAS 18001, API Spec Q1, DSTU ISO 9001, GOST R ISO 9001, STO Gazprom 9001 Standards. KHARTSYZSK PIPE production is certified according to API, EN standards and UkrSEPRO national system. Welding processes are certified as per ISO 3834-2.

2011 was a peak-production year for "KHARTSYZSK PIPE" over the last 20 years as the Work's output amounted to 630 th. tons of large diam-eter pipes.

In September 2010 "KHARTSYZSK PIPE" became the first Metinvest Group asset within Ukraine to launch "Lean Production" programme and achieve tangible results.

Being a town-forming enterprise, "KHARTSYZSK PIPE" focuses its social policy on education, healthcare and infrastructure improvement. Total social investments in 2011 amounted to UAH 1.3 mln.

"KHARTSYZSK PIPE" is a part of Metinvest Group Metallurgical Division.

METINVEST GROUP is an international vertically integrated steel and mining group of companies, managing every link of the value
chain, from mining and processing iron ore and coal to making and selling semi-finished and finished steel products. The Group
comprises steel and mining production facilities located in Ukraine, Europe and the USA and has a sales network covering all key global
markets. Metinvest consists of Mining and Metallurgic Divisions. Metinvest's strategic vision is to become the leading vertically integrated
steel producer in Europe, delivering sustainable growth and profitability resilient to business cycles and providing investors with returns at
above the industry benchmarks. In the first half of 2012 Group got a profit at the amount of USD 6.74 bln. The profitability acc. to EBIDTA index was 16%.

The major shareholders of the Company METINVEST B.V. (a holding company of Metinvest Group) are SCM Group (71.25% ownership) and Smart-Holding (23.75% ownership) partnering in Company's management.

METINVEST HOLDING LLC is the managing company of Metinvest Group.