12 September 2013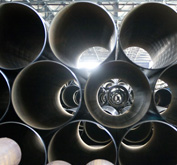 Metinvest received certificates to supply pipes and plates to Brazil's Petróleo Brasileiro S.A. (Petrobras), one of the world's largest integrated energy producers.
The certificates were given to Khartsyzsk Pipe for carbon welded pipes and Azovstal for carbon steel plates. They will allow these products to be used for the construction of Petrobras' oil and gas pipelines, ships and oil platforms in Brazil and other countries where Petrobras operates (Angola, Bolivia, Columbia, Nigeria, U.S.A., etc.). In addition, Metinvest International SA was registered by Petrobras as a sales unit.
"The receipt of Petrobras' certificate creates the foundation for a long-term partnership with one of the world's largest energy players and opens the large and promising Latin and North American markets to our products," said Dmitry Nikolaenko, Metinvest Group's sales director. "This shows the competitive advantages of Khartsyzsk Pipe's and Azovstal's products, and our readiness to meet customer needs both in terms of quality and geography."
For editors:

PJSC "KHARTSYZSK PIPE PLANT" is the largest in Ukraine and one of the largest enterprises in Europe for pipes manufacture. The company manufactures longitudinal SAW large diameter pipes (508-1422 mm in diameter) with external anticorrosion and internal anticorrosion or flow coating for main oil and gas pipelines. Plant's facilities permit to manufacture more than 1.3 mln. tons of pipes per year, including 700 thous. tons of coated pipes.

PJSC "AZOVSTAL IRON & STEEL WORKS" is an up-to-date high-technology enterprise which produces a wide range of steel products such as: slabs, sections and shapes, rails, rail fastenings, square billets, heavy plates, and smelter slag products. Production capacity of the Enterprise makes it possible to manufacture annually over 5,5 million tons of pig iron, over 6,2 million tons of steel (the target is to achieve 7 million tons of steel per year), over 4,4 million tons of rolled products. Design capacity of rail fastenings.

METINVEST GROUP is a vertically integrated steel and mining group of companies, managing every link of the value chain, from mining and processing iron ore and coal to making and selling semi-finished and finished steel products. The Group comprises steel and mining production facilities located in Ukraine, Europe and the USA and has a sales network covering all key global markets. Metinvest Group is structured into two operating divisions: Metallurgical and Mining Divisions and has a strategic vision to become the leading vertically integrated steel producer in Europe, and to deliver sustainable growth and profitability resilient to business cycles, providing investors with returns at above the industry benchmarks. The Group generated US$6.74billion of revenues and a 16% EBITDA margin for the first half of 2012.
The major shareholders of METINVEST B.V. (a holding company of Metinvest Group) are SCM Group (71.25%) and Smart-Holding (23.75%), partnering in the Company's management.

METINVEST HOLDING, LLС is the managing company of Metinvest Group.