2 August 2013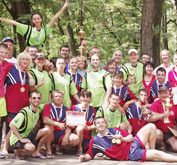 The traditional competitions in sports tourism were conducted in July on the Shore of Krynka River on recreation camp called Trubnik and located in Zugres town. This year the tree-days sport marathon gathered 10 teams from four enterprises of Metinvest Group.
KHARTSYZSK PIPE PLANT hosts touristic rallies over 37 years, which became the heart-warming tradition. But if the competition place is unchangeable, the amount of participants is permanently growing.
This year Festival of sport, youth and enthusiasm brought together 10 teams. In addition to plant employees the admires of tourism from Mariupol Iron and Steel Works, metallurgical plant "Zaporozhstal", Avdeyevka Coke and Chemical Plant took part in the competitions. As guests the old friends of KHARTSYZSK PIPE, who took part in touristic rallies within many years, the employees of confectionary company AVK and from SILUR plant were invited.
Rally program was rich and varied. Tourists were singing, dancing, knitting rope knots on the speed, canoeing, shooting at targets from the BB gun, siding over the rope and overcoming all kinds of obstacles with the help of special equipment. Team spirit and strong friendship is the thing that has got together participants of tourist gathering.
The jury noted the very strong preparing of all teams. The intrigue of the fight for first place was saved until the end. In the end the winner became the team from pipe welding shop No. 4 of Khartsyzsk Pipe, the team of confectionery AVK was awarded with silver medal, and the third place was won by PEWSh-2 of Khartsyzsk Pipe. In the overall standings the garland came to KHARTSYZSK PIPE, steel works Azovstal and Zaporozhstal engaged the second and third places respectively.
"The Events of such proportions allow rallying employees not only inside the enterprises, as well as uniting the interests of young people throughout the Division," Pavel Uzbek said, Director General of Khartsyzsk pipe plant. "The company and administration of the plant are always ready to support initiatives of young steelworkers aimed to build team spirit and cohesion. Professionalism, teamwork, commitment to achieve high results in all areas of activity both in work, and in sports – that is what unites the employees of Metinvest".
For editors:

PUBLIC JOINT STOCK COMPANY "KHARTSYZSK PIPE PLANT" is one of the largest enterprises in the CIS manufacturing longitudinal SAW large diameter pipes (508-1422 mm in diameter) with external anticorrosion and internal anticorrosion or flow coating for main oil and gas pipelines. Plant's facilities permit to manufacture more than 1.3 mln. tons of pipes per year, including 700 thous. tons of coated pipes.

The integrated Management System ensuring stable high quality of the products to the customers is functioning at "Khartsyzsk PIPE PLANT". ISO 9001, ISO 14001, OHSAS 18001, API Spec Q1, DSTU ISO 9001, GOST R ISO 9001, STO Gazprom 9001 create its foundation. Products of the plant are certified according to API, EN standards and in the national system UkrSEPRO. Welding processes are certified as per ISO 3834-2.

2011 became the record year for "KHARTSYZSK PIPE" over the last 20 years for all production performance. More than 630 thous. tons of large diameter pipes were produced in January-December, 2011.

"KHARTSYZSK PIPE PLANT" became the first company among Ukrainian enterprises of Metinvest Group which started to implement "Lean enterprise" program in September, 2010 and obtained tangible results.

Priority directions of social policy of KHARTSYZSK PLANT as town-forming enterprise are of social programs and activities in the spheres of education, health, improving urban infrastructure. In 2011, the amount of social investments of the Enterprise totaled more than 1.3 million. hrn.

"Khartsyzsk PIPE PLANT" is a part of Metallurgical Division of Metinvest Group.

METINVEST GROUP is a vertically integrated steel and mining group of companies, managing every link of the value chain, from mining and processing iron ore and coal to making and selling semi-finished and finished steel products. The Group comprises steel and mining production facilities located in Ukraine, Europe and the USA and has a sales network covering all key global markets. Metinvest Group is structured into two operating divisions: Metallurgical and Mining Divisions and has a strategic vision to become the leading vertically integrated steel producer in Europe, and to deliver sustainable growth and profitability resilient to business cycles, providing investors with returns at above the industry benchmarks. The Group generated US$6.74 billion of revenues and a 16% EBITDA margin for the first half of 2012.

The major shareholders of METINVEST B.V. (a holding company of Metinvest Group) are SCM Group (71.25%) and Smart-Holding (23.75%), partnering in the Company's management.

METINVEST HOLDING, LLC is the managing company of Metinvest Group.

For additional information, please, visit http://pipe.metinvestholding.com/en

Contact person:

Victoria Liashenko
Acting Head of Corporate Communications Department
+380 (6257) 59879
press@ukrpipe.com.ua