12 July 2013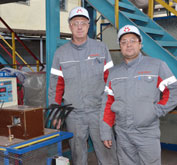 KHARTSYZSK PIPE PLANT of Metinvest Group mounted and put into operation new inductive devices at the pipe acceptance area in PWSh-4. The cost impact after implementation of this project is more than 200 thousand UAH per year.
Inductive units replaced the gas-burners used by the Shop for heating the metal blades, which are the main tool of batch plater during the repair of pipe coating. Heating with help of gas needed the current work of gas burners and no matter if pipe need the repair or not.
An alternative solution of the problem found Oleg Buzanov, electrician of PWSh-4, and Yevgeniy Boyko, Deputy of Shop Head. New inductive units operate automatically and the energy for heating is used only if necessary. Electricity costs per shift are only 9 UAH 71 kopiykas, that's 10 times less than costs for gas used before during the technological process.
In such system there are no parts subjected to wear and service life of inducers is determined by the lifetime of magnetic coil. All mentioned above makes the installation extremely reliable, and increases the period of its operation at times. Similar inductive devices are planned to be install on the second production line of the Shop.
"Industrial enterprises have not an easy task to use in the production alternative fuels which do not pollute the air and don't belong to the 'fossil' energy power. To increase the energy efficiency of economy is one of the most actual tasks for everybody, - Aleksandr Rybin, Chief Power Engineer of KHARTSYZSK PIPE, mentioned. – Initiatives of our employees are the reasonable ideas allowing cutting the costs on fuel and power resources, production time essentially and reducing production costs".
For editors:

PUBLIC JOINT STOCK COMPANY "KHARTSYZSK PIPE PLANT" is one of the largest enterprises in the CIS manufacturing longitudinal SAW large diameter pipes (508-1422 mm in diameter) with external anticorrosion and internal anticorrosion or flow coating for main oil and gas pipelines. Plant's facilities permit to manufacture 1.3 mln. tons of pipes per year, including about 700 thous. tons of coated pipes.

The integrated Management System ensuring stable high quality of the products to the customers is functioning at "Khartsyzsk PIPE PLANT". ISO 9001, ISO 14001, OHSAS 18001, API Spec Q1, DSTU ISO 9001, GOST R ISO 9001, STO Gazprom 9001 create its foundation. Products of the plant are certified according to API, EN standards and in the national system UkrSEPRO. Welding processes are certified as per ISO 3834-2.

2011 became the record year for "KHARTSYZSK PIPE" over the last 20 years for all production performance. More than 630 thous. tons of large diameter pipes were produced in January-December, 2011.

"KHARTSYZSK PIPE PLANT" became the first company among Ukrainian enterprises of Metinvest Group which started to implement "Lean enterprise" program in September, 2010 and obtained tangible results.

Priority directions of social policy of KHARTSYZSK PLANT as town-forming enterprise are of social programs and activities in the spheres of education, health, improving urban infrastructure. In 2011, the amount of social investments of the Enterprise totaled more than 1.3 million. hrn.

"Khartsyzsk PIPE PLANT" is a part of Metallurgical Division of Metinvest Group.

METINVEST GROUP is a vertically integrated steel and mining group of companies, managing every link of the value chain, from mining and processing iron ore and coal to making and selling semi-finished and finished steel products. The Group comprises steel and mining production facilities located in Ukraine, Europe and the USA and has a sales network covering all key global markets. Metinvest Group is structured into two operating divisions: Metallurgical and Mining Divisions and has a strategic vision to become the leading vertically integrated steel producer in Europe, and to deliver sustainable growth and profitability resilient to business cycles, providing investors with returns at above the industry benchmarks. The Group generated US$6.74 billion of revenues and a 16% EBITDA margin for the first half of 2012.

The major shareholders of METINVEST B.V. (a holding company of Metinvest Group) are SCM Group (71.25%) and Smart-Holding (23.75%), partnering in the Company's management.

METINVEST HOLDING, LLC is the managing company of Metinvest Group.

For additional information, please, visit http://pipe.metinvestholding.com/en

Contact person:

Victoria Liashenko
Acting Head of Corporate Communications Department
+380 (6257) 59879
press@ukrpipe.com.ua