5 July 2013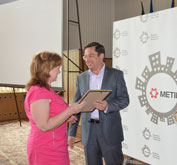 Metinvest summed up the social projects contest «We improved the town» in Khartsyzsk. The fi-nalists, included ten social projects from town dwellers, receive financial support from KHARTSYZSK PIPE PLANT in the amount of 350 thousand UAH within 2013.
Awarding took place in the house of Municipal Executive Committee, where representatives of town community, honored guests and creators of all projects submitted for "We improved the town" contest got together. The winners were awarded with commemorative diplomas and money certificates. Awarding ceremony was conducted by Pavel Uzbek, Acting Director General of KHARTSYZSK PIPE PLANT, and Igor Kolodii, Secretary of Khartsyzsk Town Council.
"This contest gave our town dwellers an opportunity to show their activeness and obtain support of KHARTSYZSK PIPE PLANT in implementation of their ideas, - Igor Kolodii, Secretary of Khartsyzsk Town Council, mentioned. – On behalf of town community I'd like to say thank you to KHARTSYZSK PIPA PLANT and Metinvest Company for the given opportunity to Khartsyzsk dwellers to turn their projects into reality and make our town more comfortable and prosperous".
The project called Healthy people mean prosperous town covers the development of Health Centre, which recreates the microclimate of salt and karst caves as part of Primary Health Centre. In special salt chamber people with bronchial asthma and allergy can receive the nondrug treatment.
Young actors of little theatre "Debut" will implement the project called Dreams of Melpomene. The reconstruction and design of the scene, renewal of armchairs in the hall, acquisition of equipment for make-up room and of additional light fittings are planned to be conducted here.
As a result of "We improved the town" contest the town society of disabled people will be able to carry out project called Solarbabies. Within the Project the acquisition of special-purpose equipment and decor of study space for children with Down's disease and autism are planned to be done.
Also within the projects the modern sport ground with football field and race tracks will be built on the territory of Khartsyzsk Vocational School this year. In the park of Culture Palace of KHARTSYZSK PIPE benches, swings and sandpits will be set, and the children's play ground will be opened in the most densely populated area of the town called Energetic.
"KHARTSYZSK PIPE PLANT, Metinvest Company in cooperation with town authorities conduct "We improve the town" contest second time and it's become a tradition, – Pavel Uzbek, Acting Director General of KHARTSYZSK PIPE PLANT, underlined. It's gratefully that the activeness of dwellers increases and the amount of requests grows. It means that dwellers of Khartsyzsk didn't remain indifferent and desire to make the life in town better and more comfortable. And KHARTSYZSK PIPE PLANT always ready to support dwellers in realization of plans aimed to gain the welfare and living standards in the town".
For editors:

PUBLIC JOINT STOCK COMPANY "KHARTSYZSK PIPE PLANT" is one of the largest enterprises in the CIS manufacturing longitudinal SAW large diameter pipes (508-1422 mm in diameter) with external anticorrosion and internal anticorrosion or flow coating for main oil and gas pipelines. Plant's facilities permit to manufacture more than 1.0 mln. tons of pipes per year, including 700 thous. tons of coated pipes.

The integrated Management System ensuring stable high quality of the products to the customers is functioning at "Khartsyzsk PIPE PLANT". ISO 9001, ISO 14001, OHSAS 18001, API Spec Q1, DSTU ISO 9001, GOST R ISO 9001, STO Gazprom 9001 create its foundation. Products of the plant are certified according to API, EN standards and in the national system UkrSEPRO. Welding processes are certified as per ISO 3834-2.

2011 became the record year for "KHARTSYZSK PIPE" over the last 20 years for all production performance. More than 630 thous. tons of large diameter pipes were produced in January-December, 2011.

"KHARTSYZSK PIPE PLANT" became the first company among Ukrainian enterprises of Metinvest Group which started to implement "Lean enterprise" program in September, 2010 and obtained tangible results.

Priority directions of social policy of KHARTSYZSK PLANT as town-forming enterprise are of social programs and activities in the spheres of education, health, improving urban infrastructure. In 2011, the amount of social investments of the Enterprise totaled more than 1.3 million. UAH.

"Khartsyzsk PIPE PLANT" is a part of Metallurgical Division of Metinvest Group.

METINVEST GROUP is a vertically integrated steel and mining group of companies, managing every link of the value chain, from mining and processing iron ore and coal to making and selling semi-finished and finished steel products. The Group comprises steel and mining production facilities located in Ukraine, Europe and the USA and has a sales network covering all key global markets. Metinvest Group is structured into two operating divisions: Metallurgical and Mining Divisions and has a strategic vision to become the leading vertically integrated steel producer in Europe, and to deliver sustainable growth and profitability resilient to business cycles, providing investors with returns at above the industry benchmarks. The Group generated US$6.74 billion of revenues and a 16% EBITDA margin for the first half of 2012.

The major shareholders of METINVEST B.V. (a holding company of Metinvest Group) are SCM Group (71.25%) and Smart-Holding (23.75%), partnering in the Company's management.

METINVEST HOLDING, LLC is the managing company of Metinvest Group.

For additional information, please, visit http://pipe.metinvestholding.com/en

Contact person:

Victoria Liashenko
Acting Head of Corporate Communications Department
+380 (6257) 59879
press@ukrpipe.com.ua