2 July 2013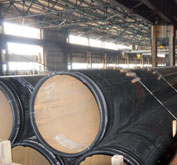 The project on delivery to GRTgaz of pipes with diameter of 762 mm and wall thickness of 20.0 mm from steel of L415MB grade and with diameter of 1067 mm wall thickness of 25.0 mm from steel of L450 grade with external and internal coatings has successfully carried out on KHARTSYZSK PIPE PLANT of Metinvest Group. Total delivery scope is 1 784 tones (3 213 m).
At the end of 2012 KHARTSYZSK PIPE PLANT won a tender of C4Gas Company (France) - «C4Gas spot tender 2012-2013». To participate in this and other tenders of C4Gas Company and to provide the product delivery to the Plant it was required to renew the qualification of external and internal coatings in accordance with new requirements of the Company. KHARTSYZSK PIPE PLANT successfully passed the requalification and got approval of production lines and coating systems used (CSD 267 and CSD 274 Conformity Certificates).
For satisfactory completion of the Project technical specialist of the plant together with managers of Metinvest Company were working on the agreement of requirements to the products and technical documentation during several months. Technical requirements for deliver of hot-rolled plates of appropriate quality were agreed with IRON AND STEEL WORKS "AZOVSTAL".
To participate in the Project the Plant bought additional materials and equipments such as conductometer - salt meter to determine the impurity of abrasive, special paint material to proof pipe bevels, epoxy powder composition and so on.
Despite rather strict customer requirements to the product quality, KHARTSYZSK PIPE PLANT dealt successfully with the task once again proved its ability to compete. It became possible by virtue of specialists' professionalism and team work of whole staff.
"High product quality is one of the main competitive strengths of KHARTSYZSK PIPE PLANT. The priority value for Metinvest Company is customer-oriented approach so daily we work on process improvement and raise a level of technologies, - Pavel Uzbek. Director General of KHARTSYZSK PIPE, pointed out. – We do our best the product of KHARTSYZSK PIPE production remain the quality and reliability standard, and also meet the strictest requirements of our Clients. The Project we carried out in June is confirmation that we have trust in Europe. KHARTSYZSK PIPE PLANT came to partners' expectations in full – the whole production was shipped at term and meets the highest quality standards. In future it allows KHARTSYZSK PIPE to expand into new strategic markets of European Union and ensures the participation in perspective scale projects".
For editors:

PUBLIC JOINT STOCK COMPANY "KHARTSYZSK PIPE PLANT" is one of the largest enterprises in the CIS manufacturing longitudinal SAW large diameter pipes (508-1422 mm in diameter) with external anticorrosion and internal anticorrosion or flow coating for main oil and gas pipelines. Plant's facilities permit to manufacture 1.3 mln. tons of pipes per year, including about 700 thous. tons of coated pipes.

The integrated Management System ensuring stable high quality of the products to the customers is functioning at "Khartsyzsk PIPE PLANT". ISO 9001, ISO 14001, OHSAS 18001, API Spec Q1, DSTU ISO 9001, GOST R ISO 9001, STO Gazprom 9001 create its foundation. Products of the plant are certified according to API, EN standards and in the national system UkrSEPRO. Welding processes are certified as per ISO 3834-2.

2011 became the record year for "KHARTSYZSK PIPE" over the last 20 years for all production performance. More than 630 thous. tons of large diameter pipes were produced in January-December, 2011.

"KHARTSYZSK PIPE PLANT" became the first company among Ukrainian enterprises of Metinvest Group which started to implement "Lean enterprise" program in September, 2010 and obtained tangible results.

Priority directions of social policy of KHARTSYZSK PLANT as town-forming enterprise are of social programs and activities in the spheres of education, health, improving urban infrastructure. In 2011, the amount of social investments of the Enterprise totaled more than 1.3 million. hrn.

"Khartsyzsk PIPE PLANT" is a part of Metallurgical Division of Metinvest Group.

METINVEST GROUP is a vertically integrated steel and mining group of companies, managing every link of the value chain, from mining and processing iron ore and coal to making and selling semi-finished and finished steel products. The Group comprises steel and mining production facilities located in Ukraine, Europe and the USA and has a sales network covering all key global markets. Metinvest Group is structured into two operating divisions: Metallurgical and Mining Divisions and has a strategic vision to become the leading vertically integrated steel producer in Europe, and to deliver sustainable growth and profitability resilient to business cycles, providing investors with returns at above the industry benchmarks. The Group generated US$6.74 billion of revenues and a 16% EBITDA margin for the first half of 2012.

The major shareholders of METINVEST B.V. (a holding company of Metinvest Group) are SCM Group (71.25%) and Smart-Holding (23.75%), partnering in the Company's management.

METINVEST HOLDING, LLC is the managing company of Metinvest Group.

For additional information, please, visit http://pipe.metinvestholding.com/en

Contact person:

Victoria Liashenko
Acting Head of Corporate Communications Department
+380 (6257) 59879
press@ukrpipe.com.ua