27 June 2013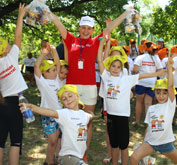 Yenakiieve Steel and Khartsyzsk Pipe Youth Organization arranged One Day with Metinvest Programme for children of Works' employees at V. Dubinin country center of rest and recreation. The programme was carried out under "Territory of Childhood" Corporate Project, aimed at kids and teens interest promoting in their parents' professional life.
The pilot project realized at Severniy recreation camp in Mariupol was launched last year. Kids were enraptured with challenging and fascinating programme drawn up by members of Youth Organizations form Yenakievo and Mariupol. This year One Day with Metinvest Programme geography has broadened covering all the recreation centers owned by the Assets of Metinvest Group (Donetsk, Mariupol, Yenakievo, Avdiivka, Komsomolsk, Kryvyi Rih, Zaporozhje and Krasnodon).
This year the young steelworkers made up a varied entertaining programme for 206 little nestlers from V.Dubinin center. A Day with Metinvest Programme started with unusual morning exercises. Each child has got a T-short with the event logo and colorful bandana (each party was marked with bandanas of a unique color). A day schedule was announced at the morning line-up and the event started with Metinvest flag-raising ceremony. Members of Yenakiieve Steel and Khartsyzsk Pipe Youth Organizations joined each party to support kids during the competitions together with their party leaders.
Activity programme was split into two sections. Juniors were involved into games, competitions and entertaining activities while seniors were working out "Metinvest of the Future" projects. Using paints, paper and construction kits teens were to express their own vision for the largest Ukrainian mining and metal company prospects. When all the projects had been defended, the recreation center and youth organizations teams met at a football ground to play an exhibition game.
After a nap time all kids of the recreation center were invited to participate in "Metinvest Quest". Each of 10 locations was named after Metinvest corporate values. For example, at the "Professionalism" location young metallurgists should have put together syllables composing as many job titles present at Metinvest Company as it was possible. Children managed to get over the challenges successfully.
The results of The Day with Metinvest were announced at a celebratory assembly which took place in the evening. All the participants were awarded with diplomas, certificates of merit and prizes. A colorful fire-show crowned the closing ceremony.
"Children of our employees ought to know where their parents work, ought to be proud of them and understand that Metinvest covers a variety of useful occupations, - highlighted Oleg Solovyov, HR Director of PJSC Yenakiieve Steel. – I'm glad to see that young workers of our Company carry out such sort of events".
For editors:

PJSC Yenakiieve Iron and Steel Works, comprised of Yenakiieve Steel and its Makiivka branch, is a world leader in commercial billet production. The company produces cast billet, bar products and various section rolled products (beams, channels, angles, etc.) as well. Yenakiieve Steel is the only producer of shapes for elevator tracks within Ukraine. Yenakiieve Steel production performance for 2011 is as follows: 1,9 mln. tones of hot sinter, 2,3 mln. tones HM, 2,7 mln. tones of liquid steel, 2,6 mln. tones of rolled product. Two up-to-date blast furnaces (BF No.3 and BF No.5) and first continuous casting machines (CCM) manufactured in Ukraine are operating at Yenakiieve Steel. In 2012 BF No.3 was acknowledged as the best industrial facility in Ukraine according to the competition by Ministry of Regional Development, Construction and Housing of Ukraine.

Two up-to-date blast furnaces (BF No.3 and BF No.5) and first continuous casting machines (CCM) manufactured in Ukraine are operating at Yenakiieve Steel. In 2012 BF No.3 was acknowledged as the best industrial facility in Ukraine according to the competition by Ministry of Regional Development, Construction and Housing of Ukraine.

For the second time Yenakiieve Steel implements in its towns of its presence (Yenakiievo and Makiivka) the "We improve our town with our own hands" social programme. The allocated funds amounted to USD 500 th. for 2011-2012. In 2012 Yenakiieve Steel management and local authorities of Yenakievo and Makiivka signed "Town-Works" social and economic development agreement, aimed at creating comfortable living conditions for citizens. In 2013 Metinvest plans to invest UAH 7 mln. in social infrastructure development of the towns.

Yenakiieve Steel is a part of Metinvest Group's Metallurgical Division.

METINVEST GROUP is an international vertically integrated steel and mining group of companies, managing every link of the value chain, from mining and processing iron ore and coal to making and selling semi-finished and finished steel products. The Group comprises steel and mining production facilities located in Ukraine, Europe and the USA and has a sales network covering all key global markets. Metinvest consists of Mining and Metallurgic Divisions. Metinvest's strategic vision is to become the leading vertically integrated steel producer in Europe, delivering sustainable growth and profitability resilient to business cycles and providing investors with returns at above the industry benchmarks. In the first half of 2012 Group got a profit at the amount of USD 6.74 bln. The profitability acc. to EBIDTA index was 16%.

The major shareholders of the Company METINVEST B.V. (a holding company of Metinvest Group) are SCM Group (71.25% ownership) and Smart-Holding (23.75% ownership) partnering in Company's management.

METINVEST HOLDING LLC is the managing company of Metinvest Group.

Get more information at www.metinvestholding.com