26 June 2013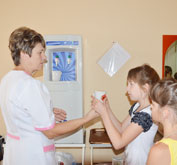 Summer season for the health improvement is at the very height at KHARTSYZSK PIPE PLANT of Metinvest. In 2013, more than UAH 3 million will be allocated for cultural and sports events and health improvement of the plant workers.
This summer, plant workers and their families will be able to have a rest on the best resorts of the Black and Azov coasts and in the Crimean sanatorium zones: Zhelezny Port, Alushta, Saki, Berdyansk, Urzuf. Voucher cost per person for the employee of KHARTSYZSK PIPE will amount to 30% of its value. Despite the general rise in prices, the company has decided not to raise the cost of vouchers at the units of "Health Resorts Plus" and remained them at the previous year level.
KHARTSYZSK PIPE will focus on summer camps for children of its employees. Comfortable Healthcare Centre n.a. Dubinin will work for children during the whole summer. In addition, children will be able to have a rest in the plant health and recreation centre "Trubnik" where children will be provided with a wide range of physiotherapy treatments, three meals daily, as well as active participation in cultural events. The company will provide all interested persons with vouchers to Children Healthcare Centre.
KHARTSYZSK PIPE acquires vouchers for workers who are in the health risk group and who have chronic diseases to the specialized health resort establishments of Ukraine to undergo treatment and preventive measures of diseases aggravation. This category of staff is provided with vouchers for the entire calendar year.
"The main value of the company is its people, so we pay much attention to the health improvement of our employees and not just in summer. This year, the emphasis has been made precisely on health resort vouchers: qualitative and comfortable rest at Ukrainian resorts is a key to successful work for the whole year", the director for Human Resources and Social Affairs Roman Tsukurov said.
For editors:

PUBLIC JOINT STOCK COMPANY "KHARTSYZSK PIPE PLANT" is the largest in Ukraine and one of the largest enterprises in Europe for pipes manufacture. The company manufactures longitudinal SAW large diameter pipes (508-1422 mm in diameter) with external anticorrosion and internal anticorrosion or flow coating for main oil and gas pipelines. Plant's facilities permit to manufacture 1.3 mln. tons of pipes per year, including about 700 thous. tons of coated pipes.

The integrated Management System ensuring stable high quality of the products to the customers is functioning at "Khartsyzsk PIPE PLANT". ISO 9001, ISO 14001, OHSAS 18001, API Spec Q1, DSTU ISO 9001, GOST R ISO 9001, STO Gazprom 9001 create its foundation. Products of the plant are certified according to API, EN standards and in the national system UkrSEPRO. Welding processes are certified as per ISO 3834-2.

More than 630 thous. tons of large diameter pipes were produced at "KHARTSYZSK PIPE PLANT" in 2011 that became the record over the last 20 years.

In September, 2010 "KHARTSYZSK PIPE PLANT" became the first company among Ukrainian enterprises of Metinvest Group which started to implement "Lean enterprise" program and obtained significant results.

The top-priority goals in the social policy of "KHARTSYZSK PIPE PLANT" as a mainstay of the entire town are implementation of social programs and activities in education, health service and improvement of town infrastructure. In 2011 the volume of social investment of the company was more than 1.3 mln UAH.

"Khartsyzsk PIPE PLANT" is a part of Metallurgical Division of Metinvest Group.

METINVEST GROUP is a vertically integrated steel and mining group of companies, managing every link of the value chain, from mining and processing iron ore and coal to making and selling semi-finished and finished steel products. The Group comprises steel and mining production facilities located in Ukraine, Europe and the USA and has a sales network covering all key global markets. Metinvest Group is structured into two operating divisions: Metallurgical and Mining Divisions and has a strategic vision to become the leading vertically integrated steel producer in Europe, and to deliver sustainable growth and profitability resilient to business cycles, providing investors with returns at above the industry benchmarks. The Group generated US$6.74 billion of revenues and a 16% EBITDA margin for the first half of 2012.

The major shareholders of METINVEST B.V. (a holding company of Metinvest Group) are SCM Group (71.25%) and Smart-Holding (23.75%), partnering in the Company's management.

METINVEST HOLDING, LLC is the managing company of Metinvest Group.

For additional information, please, visit http://pipe.metinvestholding.com/en

Contact person:

Victoria Lyashenko
Acting Head of Corporate Communications Department
+380 (6257) 59879
press@ukrpipe.com.ua