7 June 2013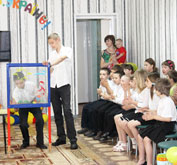 On the 31st of May representatives of KHARTSYZSK PIPE PLANT of Metinvest Group vis-ited educatees of the Town Social-Psychological Rehabilitation Centre for Children.
KHARTSYZSK PIPE PLANT patronizes the Town Social-Psychological Rehabilitation Centre for Children for many years. And just before the Children's Day leaders of KHARTSYZSK PIPE were unable to ignore boys and girls deprived of parental care and attention. It was Pavel Uzbek, Acting Director General of KHARTSYZSK PIPE, who headed the delegation. Little people drew their attention to mollies with fruits and sweeties, colorful bags with gifts and presents.
"I'd like to congratulate you and wish to be children as long as possible, - Pavel Uzbek turned to the educatees of the Centre – in spite of everything put your faith in miracles and they always happen with you. Believe in people, in the human good and bonify. You are young, but believe me, a lot of grand and important actions and deeds were performed by young people, because age is not the most important thing. Main thing is what a human has inside, what kind of heart he has, what kind of willpower he has, and if he has a wish to change this world for the better. And, of course, I heartily wish you a big children's happiness".
The year 2013 is announced a year of children's art in Ukraine. Educatees of the Centre demonstrated their artistic skills during the small festival that was made for guests. Children sang, danced, spouted poetries and played sketches.
In return Alla Cherkashyna, Director of the Centre, thanked the collective of KHARTSYZSK PIPE for their attention to fortune of her educatees and continuous support of children left without family. "KHARTSYZSK PIPE PLANT is our trusted friends ready at any moment to come to the rescue. Youth of KHARTSYZSK PIPE, ladies' committee and athletes are always close to us and it's my belief that we are one of the KHARTSYZSK PIPE Shops, to some extent".
For editors:

PUBLIC JOINT STOCK COMPANY "KHARTSYZSK PIPE PLANT" is one of the largest enterprises in the CIS manufacturing longitudinal SAW large diameter pipes (508-1422 mm in diameter) with external anticorrosion and internal anticorrosion or flow coating for main oil and gas pipelines. Plant's facilities permit to manufacture 1.3 mln. tons of pipes per year, including about 700 thous. tons of coated pipes.

The integrated Management System ensuring stable high quality of the products to the customers is functioning at "Khartsyzsk PIPE PLANT". ISO 9001, ISO 14001, OHSAS 18001, API Spec Q1, DSTU ISO 9001, GOST R ISO 9001, STO Gazprom 9001 create its foundation. Products of the plant are certified according to API, EN standards and in the national system UkrSEPRO. Welding processes are certified as per ISO 3834-2.

2011 became the record year for "KHARTSYZSK PIPE" over the last 20 years for all production performance. More than 630 thous. tons of large diameter pipes were produced in January-December, 2011.

"KHARTSYZSK PIPE PLANT" became the first company among Ukrainian enterprises of Metinvest Group which started to implement "Lean enterprise" program in September, 2010 and obtained tangible results.

Priority directions of social policy of PJSC "KHARTSYZSK PIPE" as forming enterprise are implementation of social programs and activities in the areas of education, health, improving urban infrastructure. In 2011, the amount of social investments companies totaled more than 1.3 million. UAH.

"KHARTSYZSK PIPE PLANT" is part of Metallurgical division of Metinvest Group.

METINVEST GROUP is a vertically integrated steel and mining group of companies, managing every link of the value chain, from mining and processing iron ore and coal to making and selling semi-finished and finished steel products. The Group comprises steel and mining production facilities located in Ukraine, Europe and the USA and has a sales network covering all key global markets. Metinvest Group is structured into two operating divisions: Metallurgical and Mining Divisions and has a strategic vision to become the leading vertically integrated steel producer in Europe, and to deliver sustainable growth and profitability resilient to business cycles, providing investors with returns at above the industry benchmarks. The Group generated US$6.74 billion of revenues and a 16% EBITDA margin for the first half of 2012.

The major shareholders of METINVEST B.V. (a holding company of Metinvest Group) are SCM Group (71.25%) and Smart-Holding (23.75%), partnering in the Company's management.

METINVEST HOLDING, LLC is the managing company of Metinvest Group.

For additional information, please, visit http://pipe.metinvestholding.com/en

Contact person:

Victoria Liashenko
Acting Head of Corporate Communications Department
+380 (6257) 59879
press@ukrpipe.com.ua