17 May 2013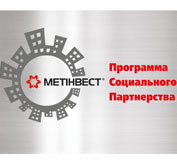 Metinvest has finished accepting applications to the competition of social projects as part of the program We Improve the City. In 2013 358 project applications were received for participation in this competition that is by 20 % more than last year. Winners of the competition will get funds to realize their projects. The maximum amount of financial support for each project is UAH 50 thous.
In Khartsyzsk the competition We Improve the City is held for two years on end. In 2013 town dwellers submitted 35 project applications. Participants of the competition are representatives of social organizations, municipal authorities, active residents. The largest number of applications is aimed at creating comfort living conditions in the native town, promoting a healthy lifestyle, sports activities, supporting and developing educational, cultural and creative initiatives.
This year activity of town dwellers was increased and their ideas are varied. Thus, the project of Children and Youth Activities Centre "Grezy Melpomeny" is intended to increase the level of theatre culture of schoolchildren and young people of the town, develop their acting skills and introduce them to theatrical art. The project of the public pre-school institution "Ryabinushka" is focused on development of the traffic playground for children on the territory of the child day care centre.
Training of the program participants to the skills of social engineering and project management has become an innovation this year. About 500 residents have been trained in all towns where Metinvest enterprises are located. In Khartsyzk 20 people took part in a training seminar. Geography of the project has also been expanded. Residents of Makeevka and Petrovskiy (Kirovohrad region) joined Avdeevka, Yenakievo, Mariupol, Khartsyzsk, Komsomolskoye, Novgorodskoye, Krasnodon and Krivoy Rog.

Till the end of May all submitted applications will undergo technical examination and evaluation. Expert councils established in each town will evaluate the projects. Competent representatives of local communities, specialists of enterprises and organizations, leading Ukrainian experts for sustainable development became the members of the councils. The task of expert councils is to determine the best socially important projects and recommend them to the Company for financing.

In the beginning of June the awarding ceremony of winners of the competition will take place and subsequent implementation of the best projects will be carried out.

"I hope that the program We Improve the City will become one more bright page in the social and economic development of Khartsyzsk," one of the participants, Director of Khartsyzsk theater studio "Debut" Victor Chupika, said. "I wish all concerned and active citizens of our town victory in the competition".
For editors:

PUBLIC JOINT STOCK COMPANY "KHARTSYZSK PIPE PLANT" is the largest company in Ukraine and one of the largest enterprises in Europe for pipes manufacture. The company manufactures longitudinal SAW large diameter pipes (508-1422 mm in diameter) with external anticorrosion and internal anticorrosion or flow coating for main oil and gas pipelines. Plant's facilities permit to manufacture 1.3 mln. tons of pipes per year, including about 700 thous. tons of coated pipes.

The integrated Management System ensuring stable high quality of the products to the customers is functioning at "Khartsyzsk PIPE PLANT". ISO 9001, ISO 14001, OHSAS 18001, API Spec Q1, DSTU ISO 9001, GOST R ISO 9001, STO Gazprom 9001 create its foundation. Products of the plant are certified according to API, EN standards and in the national system UkrSEPRO. Welding processes are certified as per ISO 3834-2.

More than 630 thous. tons of large diameter pipes were produced at "KHARTSYZSK PIPE PLANT" in 2011 that became the record over the last 20 years.

In September, 2010 "KHARTSYZSK PIPE PLANT" became the first company among Ukrainian enterprises of Metinvest Group which started to implement "Lean enterprise" program and obtained significant results.

The top-priority goals in the social policy of "KHARTSYZSK PIPE PLANT" as a mainstay of the entire town are implementation of social programs and activities in education, health service and improvement of town infrastructure. In 2011 the volume of social investment of the company was more than 1.3 mln UAH.

"Khartsyzsk PIPE PLANT" is a part of Metallurgical Division of Metinvest Group.

METINVEST GROUP is a vertically integrated steel and mining group of companies, managing every link of the value chain, from mining and processing iron ore and coal to making and selling semi-finished and finished steel products. The Group comprises steel and mining production facilities located in Ukraine, Europe and the USA and has a sales network covering all key global markets. Metinvest Group is structured into two operating divisions: Metallurgical and Mining Divisions and has a strategic vision to become the leading vertically integrated steel producer in Europe, and to deliver sustainable growth and profitability resilient to business cycles, providing investors with returns at above the industry benchmarks. The Group generated US$6.74 billion of revenues and a 16% EBITDA margin for the first half of 2012.

The major shareholders of METINVEST B.V. (a holding company of Metinvest Group) are SCM Group (71.25%) and Smart-Holding (23.75%), partnering in the Company's management.

METINVEST HOLDING, LLC is the managing company of Metinvest Group.

For additional information, please, visit http://pipe.metinvestholding.com/en

Contact person:

Victoria Lyashenko
Acting Head of Corporate Communications Department
+380 (6257) 59879
press@ukrpipe.com.ua