17 May 2013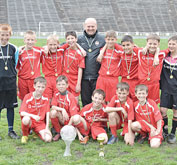 Trainees of the football school for children and youth of KHARTSYZSK PIPE PLANT, Metinvest Group, got a victory in the annual all Ukrainian football tournament for youth in memory of B.M. Ulyanov.
Competitions were held in Dneprodzerzhinsk from April 29 to May 2 between young football players (2001 and 2003 years of birth) from Dnepropetrovsk, Dneprodzerzhinsk, Kremenchug and Khartsyzsk. All participants were trained very well and desired to win.
In the tournament among boys born in 2001 the team of the plant football school has won all four matches and took the first place in its age category with confidence. In the tournament among boys born in 2003 two teams strived for victory. But Khartsyzsk football players were also stronger in this age category – they got five wins and one draw in six matches. As a result our young sportsmen took the first victorious place.
Trainees of "KHARTSYZSK PIPE" football school received medals and two cups as winners of the tournament. Ruslan Kochubey obtained a prize – the statuette as the best goalkeeper and Ilia Ukhan received the same one as the best forward. Among the players born in 2001, Vladislav Perveev has been recognized as the best player.

"The boys of our football school made good job, they reached the summit which is important for them today. The key to that victory was their perseverance, hard work and diligence," Pavel Uzbek, Acting Director General of "KHARTSYZSK PIPE", said. "The program of Metinvest Development of Child & Youth Football instills the idea of a healthy lifestyle to young people. Participation in such tournaments also brings up team spirit and feeling of comradeship which will help children in the future."
For editors:

PUBLIC JOINT STOCK COMPANY "KHARTSYZSK PIPE PLANT" is the largest company in Ukraine and one of the largest enterprises in Europe for pipes manufacture. The company manufactures longitudinal SAW large diameter pipes (508-1422 mm in diameter) with external anticorrosion and internal anticorrosion or flow coating for main oil and gas pipelines. Plant's facilities permit to manufacture 1.3 mln. tons of pipes per year, including about 700 thous. tons of coated pipes.

The integrated Management System ensuring stable high quality of the products to the customers is functioning at "Khartsyzsk PIPE PLANT". ISO 9001, ISO 14001, OHSAS 18001, API Spec Q1, DSTU ISO 9001, GOST R ISO 9001, STO Gazprom 9001 create its foundation. Products of the plant are certified according to API, EN standards and in the national system UkrSEPRO. Welding processes are certified as per ISO 3834-2.

More than 630 thous. tons of large diameter pipes were produced at "KHARTSYZSK PIPE PLANT" in 2011 that became the record over the last 20 years.

In September, 2010 "KHARTSYZSK PIPE PLANT" became the first company among Ukrainian enterprises of Metinvest Group which started to implement "Lean enterprise" program and obtained significant results.

The top-priority goals in the social policy of "KHARTSYZSK PIPE PLANT" as a mainstay of the entire town are implementation of social programs and activities in education, health service and improvement of town infrastructure. In 2011 the volume of social investment of the company was more than 1.3 mln UAH.

"Khartsyzsk PIPE PLANT" is a part of Metallurgical Division of Metinvest Group.

METINVEST GROUP is a vertically integrated steel and mining group of companies, managing every link of the value chain, from mining and processing iron ore and coal to making and selling semi-finished and finished steel products. The Group comprises steel and mining production facilities located in Ukraine, Europe and the USA and has a sales network covering all key global markets. Metinvest Group is structured into two operating divisions: Metallurgical and Mining Divisions and has a strategic vision to become the leading vertically integrated steel producer in Europe, and to deliver sustainable growth and profitability resilient to business cycles, providing investors with returns at above the industry benchmarks. The Group generated US$6.74 billion of revenues and a 16% EBITDA margin for the first half of 2012.

The major shareholders of METINVEST B.V. (a holding company of Metinvest Group) are SCM Group (71.25%) and Smart-Holding (23.75%), partnering in the Company's management.

METINVEST HOLDING, LLC is the managing company of Metinvest Group.

For additional information, please, visit http://pipe.metinvestholding.com/en

Contact person:

Victoria Lyashenko
Acting Head of Corporate Communications Department
+380 (6257) 59879
press@ukrpipe.com.ua