31 January 2013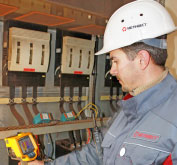 KHARTSYZSK PIPE PLANT of Metinvest Group has successfully passed a certification audit for compliance with the international standard ISO 50001:2011 of Energy management system.
From 24 to 26 January, representatives of the certification body, the company "TUV ZUD Ukraina", evaluated the distribution and boundaries of Energy Management System (EMS) at KHARTSYZSK PIPE. In the course of the audit specialists of the company gave a positive assessment of the construction and implementation of Energy Management System at KHARTSYZSK PIPE. The result is the following: the company will be given an international certificate confirming compliance of EMS of KHARTSYZSK PIPE with requirements of ISO 50001. The company will receive the document within two months.
"Confirmation of compliance with the standard ISO 50001 will contribute to further growth of authority of KHARTSYZSK PIPE PLANT of Metinvest Group as a manufacturer of high-quality products. This standard will develop a systematic approach to the continuous improvement of energy efficiency at our company", Pavel Uzbek, Acting Director General of KHARTSYZSK PIPE, comments.
For editors:

PUBLIC JOINT STOCK COMPANY «KHARTSYZSK PIPE PLANT» is the largest enterprise in the CIS manufacturing longitudinal SAW large diameter pipes (508-1422 mm in diameter) with external anticorrosion and internal anticorrosion or flow coating for main oil and gas pipelines. Plant's facilities permit to manufacture more than 1.0 mln. tons of pipes per year, including 700 thous. tons of coated pipes.

An integrated Management System ensuring stable high quality of the products to the customers is functioning at Khartsyzsk PIPE PLANT. ISO 9001, ISO 14001, OHSAS 18001, API Spec Q1, DSTU ISO 9001, GOST P ISO 9001, STO Gazprom 9001 create its foundation. Products of the plant are certified according to API, EN standards and in the national system UkrSEPRO. Welding procedure is certified according to ISO 3834-2.

In 2011, Khartsyzsk PIPE produced more than 630 thousand tons of large diameter pipes which is a record for the last 20 years.

In September 2010, Khartsyzsk PIPE PLANT became the first enterprise of Ukrainian Metinvest Group that started to implement the program «Lean Enterprise», and achieved significant results.

Priority areas of social policy of Khartsyzsk PIPE as the backbone enterprise: implementation of social programs and activities in the field of education, health protection, improvement of urban infrastructure. In 2011, the social investments of the company was more than 1.3 mln.

«Khartsyzsk PIPE PLANT» is a part of Metallurgical Division of Metinvest Group.

Metinvest is a vertically integrated mining group of companies owning assets in each link of the production chain from iron ore, coal mining and coke production through to semi-finished and finished steel production, manufacturing of coils, pipe rolling as well as manufacturing of other value-added products. Group consists of mining, iron and steel companies, located in Ukraine, Europe and USA, and has a sale network covering all key world markets. The major shareholders of Metinvest are SCM Group (71,25% ownership) and Smart-Holding (23,75% ownership) partnering in Company's management.

METINVEST HOLDING LLC is the managing company of Metinvest Group.

Additional information is available at http://pipe.metinvestholding.com/ru

Contact person:

Viktoriya Lyashenko

Acting Head of Corporate Communication Department