25 January 2013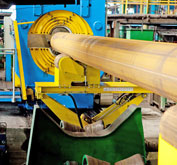 Khartsyzsk pipe plant of Metinvest Group has mastered the production pipe-set of size 508 × 11,0 mm from steel L415MB with corrosion-resistant exterior and interior epoxy coating.
The orders totaling 1,400 tons of pipes of 508 and 813 mm with different thicknesses of the walls was made for the company Eustream (Slovakia). Delivery of pipes for Slovakia is possible thanks to the certificate of compliance with the standard EN 10208-2, Khartsyzsk pipe plant issued by the Certification Body Polish «ZETOM» in 2008. It gives the company the right to supply pipes to Poland and the countries of European Union.

Specifications and quality construction of the new pipe grades fully comply with all the requirements set by international standards, as well as a number of claims made by the customer. In addition to developing a new product this order has enabled the company to enter new markets, thereby extending the range of products and portfolio.

«Industrial production of 508 mm-pipes was a successful debut for Khartsyzsk pipe plant. Our company is constantly improving production technology and the product quality. Development of a new assortment of pipes is another step towards meeting the strategic objectives of Metinvest making it to be a preferred supplier of steel products, «- acting General Director of Khartsyzsk pipe plant Pavel Uzbek says.
For editors:

PUBLIC JOINT STOCK COMPANY «KHARTSYZSK PIPE PLANT» is one of the largest enterprises in the CIS manufacturing longitudinal SAW large diameter pipes (508-1422 mm in diameter) with external anticorrosion and internal anticorrosion or flow coating for main oil and gas pipelines. Plant's facilities permit to manufacture more than 1.0 mln. tons of pipes per year, including 700 thous. tons of coated pipes.

The integrated Management System ensuring stable high quality of the products to the customers is functioning at «Khartsyzsk PIPE PLANT». ISO 9001, ISO 14001, OHSAS 18001, API Spec Q1, DSTU ISO 9001, GOST R ISO 9001, STO Gazprom 9001 create its foundation. Products of the plant are certified according to API, EN standards and in the national system UkrSEPRO. Welding processes are certified as per ISO 3834-2.

More than 630 thous. tons of large diameter pipes were produced in 2011 that became the record over the last 20 years.

In September, 2010 «KHARTSYZSK PIPE PLANT» became the first company among Ukrainian enterprises of Metinvest Group which started to implement «Lean enterprise» program and obtained large results.

The top-priority goals in the social policy of «KHARTSYZSK PIPE PLANT» as a mainstay of the entire town are implementation of social programs and activities in education, health service and improvement of town infrastructure. In 2011 the investment volume of interprise in town social programs amounted to more than 1.3 mln UAH.

«Khartsyzsk PIPE PLANT» is a part of Metallurgical Division of Metinvest Group.

METINVEST GROUP is a vertically integrated steel and mining group of companies, managing every link of the value chain, from mining and processing iron ore and coal to making and selling semi-finished and finished steel products. The Group comprises steel and mining production facilities located in Ukraine, Europe and the USA and has a sales network covering all key global markets. Metinvest Group is structured into two operating divisions: Metallurgical and Mining Divisions and has a strategic vision to become the leading vertically integrated steel producer in Europe, and to deliver sustainable growth and profitability resilient to business cycles, providing investors with returns at above the industry benchmarks. The Group generated US$6.74 billion of revenues and a 16% EBITDA margin for the first half of 2012.

The major shareholders of METINVEST B. V. (a holding company of Metinvest Group) are SCM Group (71.25%) and Smart-Holding (23.75%), partnering in the Company's management.

METINVEST HOLDING, LLC is the managing company of Metinvest Group.

For additional information, please, visit http://pipe.metinvestholding.com/en

Contact person:

Victoria Lyashenko
Acting Head of Corporate Communications Department
+380 (6257) 59879
press@ukrpipe.com.ua