25 December 2012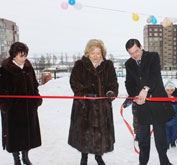 In the framework of the program of regional development Khartsyzsk pipe plant of Metinvest Group has made major repairs in the kindergarten « Charivnytsya ». The investments into the project amounted to about 450 thousand UAH.
In the preschool institution the ceiling in the rooms of the second floor was mounted, the replacement of the soft roofing and storm sewage were done, as well as the revamping of the internal and external illumination.
The solemn event with the participation of top managers of the plant and the town on a case of the opening of the pre-school institutions was held in the kindergarten on the 19th of December, and was timed to the Day of St. Nicholas. It is considered that Saint Nicholas is the patron of all children, and he always gives gifts to children. Therefore, the delegation of the representatives of Khartsyzsk pipe plant arrived to the festival with a basket of sweet gifts. In their turn, the kids have prepared the gala concert for the guests.
«Investments in support of the pre-school institutions are one of the main directions in social partnership. The main part of the inmates of the institution is the children of our workers. Our task is to ensure the comfort of the staff not only in the workplace, but also to show concern for the welfare of their families», — acting General Director of Khartsyzsk pipe plant Pavel Uzbek commented.