20 November 2012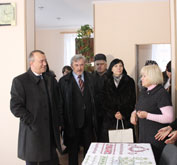 Khartsyzsk pipe plant of Group Metinvest within the framework of social partnership with the city produced major repairs of apartment of office and finishing of facade of building of municipal society of invalids "Spark". Capital investments into the project made more than 120 thousand hrn.
In the process of repair works in the apartment of office the substituting of the window blocks and the doors was produced with reinforced-plastic ones, the underroofs were set, the floor was repaired and covered with linoleum. The reconstruction of overhead illumination was produced in the room of child's development. In the food block and the sanitary knot there was the replacement of the sanitary engineering. Finishing of the building facade was produced with a decorative plaster.
The inauguration of office after the major repairs took place on November, 16. On the ceremony the representatives of administration of the plant and the city were present. Delegation of representatives of KHARTSYZSK PIPE at the head with the general director Iurii Zinchenko traditionally came not empty-handed. A new plasma television will decorate the repaired office of the society of invalids.
"This year with the program of the social investing and regional development of cities of presence of Group Metinvest we made an effort to work out the most actual problems of townspeople. The society of invalids "Spark" is one of those social establishments of the city, by whose hands the work with people with limit physical possibilities comes true. We are always ready to offer hand to help those, who needs, especially if children need help, - Iurii Zinchenko, the general director of KHARTSYZSK PIPE, marked. - I want to wish patience to you in such necessary work, and to your charges - faith in healing and strong health».