9 November 2012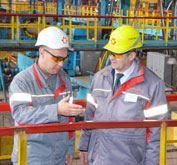 Khartsyzsk pipe plant of Group Metinvest well went the recertification of Association for a certification "Russian Register" on accordance to the standard STO Gazprom 9001-2006.
During two days the representatives of public accountant organization watched the work of structural subdivisions of the enterprise, talked with the leaders, analyzed documentation and application of requirements of the standard in practice. The aim of the audit is to confirm operating of certificate of СМК on accordance to the standard of Gazprom at KHARTSYZSK PIPE. The verification was held at the productive workshops - PEWS-2 and PWS-4, DTC, CPL, TD, PM and other subdivisions of the plant.
A public accountant commission was interested by planning in area of quality and development of production, system tasks of management by documentation, realization of internal audits, competence and understanding by the collective of actual for the plant aspects in area of system of management of quality.
General Director of KHARZYZSK PIPE Iurii Zinchenko commenting the results of successful audit, said: "The positive estimation of our work is a result of the joined actions of command of professionals, that works at our plant. We adhere to the most modern methodologies in the work, therefore we consider presence of certificated control quality system at the plant to obligatory. Confirmation of action of certificate will allow to save a trust from the side of consumers and partners, will assist the further height of authority of KHARZYZSK PIPE of Group Metinvest as a producer of high-quality products".