7 November 2012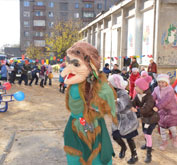 Khartsyzsk Pipe Plant within the framework of realization of the corporate social program of Metinvest "We Improve the City" supported suggestion of Khartsyzsk Business Council and initiative group of cave dwellers of Frunze, Nahimov and Zhukovskij Streets and distinguished about UAH 32 thousands for realization of project "Happy childhood". The total worth of project made more than UAH 52 thousand.
So, on November, the 1st with participation of municipal authorities and administration of Khartsyzsk Pipe formal ceremony of children's sporting-playing playground took place in the district of apartment houses of Frunze, Nahimov and Zhukovskij Streets. Within the framework of realization of this project one more children's small town appeared in the city. It is equipped not only with playing complexes and sporting street inventory, but also improved with benches, trash cans and green planting.
We will remind, it is the fourth sporting-playing complex, which Khartsyzsk Pipe Plant has presented to the children of city in a current year. In total Khartsyzsk Pipe invested more than UAH 460 thousand for improvement of children's playgrounds in 2012.
"Today we summarize the program "We Improve the City", declared by Metinvest Group this spring. In spite of the fact that all projects are various, they are united by one idea - to promote social status of city with initiative of citizens of Khartsyzsk and support of company", - General Director of KHARZYZSK PIPE Iurii Zinchenko comments.