31 October 2012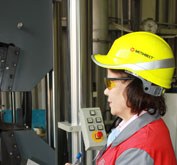 KHARTSYZSK PIPE PLANT of Metinvest Group has successfully passed the annual technical supervision over the certified welding process for compliance with the requirements of ISO 3834-2, involving the auditor of the International Scientific and Technical Centre "PATONCERT".
"KHARTSYZSK PIPE" was the first plant among the companies of pipe and tube industry of Ukraine which received the certificate of compliance with the requirements of ISO 3834-2 in 2008. This document confirms compliance of welding quality with international requirements for enterprises which use welding as the principal technical process.
The audit was carried out by Nadezhda Protsenko, the certification system manager of European Welding Federation. The auditor checked subdivisions where products are manufactured and welding materials are prepared (Pipe Electric Welding Shop No. 2), Technical Control Department, Central Plant Laboratory, Metrology Laboratory and other departments connected with fulfilling the requirements of ISO 3834-2 standard. No nonconformities have been found during the audit. KHARTSYZSK PIPE PLANT has confirmed once again the compliance with the requirements of ISO 3834-2.
"Confirmation of compliance with the certificate, containing the requirements to the welding process and qualification of company's personnel, - is not the tribute to fashion but the requirement of the customer. The customer wonders whether the pipes, which he gets from us, conform to the international standards and welding and related processes - to ISO 3834 standard," Iurii Zinchenko, Director General of PJSC "KHARTSYZSK PIPE", said. "Following Metinvest Group strategy we direct all our efforts to satisfy current and long-term requirements of the customers".