25 October 2012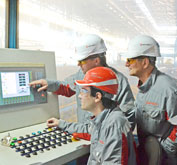 The project on operation improvement of the post-bending machine program control system was finished at PEWSh-2 of KHARTSYZSK PIPE PLANT. Machine modernization at the line for manufacture of 508-1422 mm pipes with single longitudinal seam saved more than UAH 200 thous.
The unified model of the system for control of all post-bending machine operation programs was developed and implemented within the completion of projects on modernization of the main company's facilities. Сontrol system development by specialists of "KHARTSYZSK PIPE" instead of installation of the new board from Germany made possible to save more than UAH 200 thous. and reduce costs during repair works per a ton of products as well as perform more adaptive machine control that in its turn will lead to reduction of energy consumption, influencing on the production cost. Due to the project realization the additional functions for performance control of the post-bending machine are available that will reduce emergency downtimes. During the modernization a new control panel, which improved the work efficiency of operators, was installed.
"The determinative factor during the reduction of the production cost is not only the implementation of new equipment, complex mechanization and production processes automation but also resource saving owing to development of advanced technologies. This is carried out successfully at KHARTSYZSK PIPE PLANT. The work upon this project is the next step in the development of the technological potential of our company which has proved once more the skilled level of "KHARTSYZSK PIPE" employees", Iurii Zinchenko, Director General of PJSC "KHARTSYZSK PIPE", said.