14 June 2012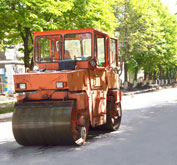 KHARTSYZSK PIPE PLANT of Metinvest Group supported the municipal program on repair of roadway. An enterprise distinguished UAH 300 thousand for repair of municipal roads within the framework of reciprocal agreement on social and economic cooperation between PJSC "KHARTSYZSK PIPE PLANT" and Khartsyzsk Municipal Council.
Repairs of roadway of Filatov, Babushkin, Kondratyev and Paton Streets with the general area of about 1 400 m² were made during works. Greater part of municipal roads is broken and is useless for the movement of motor transport after difficult weather terms in winter period. Management of enterprise made a decision to appropriate money for repair of roadway.
KHARTSYZSK PIPE PLANT as a socially-responsible enterprise supports a special purpose projects sent to development of infrastructure of city on a regular basis.
«Participating of KHARTSYZSK PIPE in the improvement of quality of life of Khartsyzsk's citizens is main direction which is the basis of agreement on social and economic cooperation between a city and enterprise, — Director General of KHARTSYZSK PIPE Iurii Zinchenko marked. — Investments in repair of municipal roads is only one of the projects that we plan to realize in a current year».