12 June 2012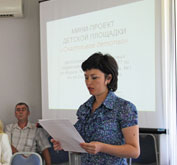 On June 8 a session of the Expert Council was held in the building of the City Council, in the course of which the finalists of the contest « Our City by Our Hands » were defined.
The Expert Council includes the General Director of KHARTSYZSK PIPE Yuri Zinchenko, the City Head Valery Dubovoy, the head of corporate communications Olga Bashkirova, representatives of city authorities, public organizations of the city and the media.
In the course of the meeting 13 semi-finalists of the contest defended their projects, proving their relevance and importance. Priority directions of the projects: cultural development, modern educational technologies, infrastructure solutions, introduction of energy saving technologies, voluntary activities, mass sport.
According to the results of the meeting of the Council 10 finalists of the contest were defined. On June 15, the awarding ceremony for participants who reached the final will be performed.
«The contest " Our City by Our Hands " is a unique opportunity to see the results of the work of the citizens. It is creativity, professionalism, and innovation of the not indifferent to the fate of the city dwellers. The prospects of further development of social sphere in Khartsyzsk and its entry to the new, more modern level, — the General director of KHARTSYZSK PIPE Yuri Zinchenko comments. — Today, an important stage of the contest " Our City by Our Hands " finished and allowed to identify the ten most interesting and actual projects. I am sure that in the future these projects will help the city to develop and become more successful and prosperous».
We remind, that the implementation of corporate social program " Our City by Our Hands " is performed by the Group Metinvest. A contest for the best social project conducts among public organizations, local authorities and local residents in the cities of Donetsk, Dnipropetrovsk and Lugansk regions. The aim of the competition is involvement of the population of the city in the development and implementation of projects, aimed at creation of the innovative approaches to the solution of social problems of Khartsyzsk.